If you want to travel in the ultimate luxury SUV then a Rolls Royce Cullinan rental is as good as it gets. When you rent a Rolls Royce Cullinan in Houston you are driving the mot luxurious SUV in the world.The Rolls Rolls Royce Cullinan combines a large bespoke interior with the legendary smooth Rolls Royce ride quality. It has the same cloud suspension system that Rolls Royce is known for. Named after the largest Diamond ever found the Cullinan will provide you with an incredible travel experience for you, your friends, and family.
As soon as you lay eyes on the Cullinan it becomes evident that it is part of the Rolls Royce brand. From the iconic Rolls Royce grill to the legendary silhouette the Cullinan has a presence like no other luxury SUV. One of the most sought after features of any Houston Rolls Royce rental are the rear hinged coach doors. This a a feature that is only found on Rolls Royce motor cars and provides a grand entrance every time you step inside. The large and bold design has an incredible presence where ever it arrives. Experience the most luxurious SUV in the world when you reserve a Rolls Royce Cullinan in Houston this weekend.
The Cullinan has a large and luxurious cabin. It is covered in soft touch premium leather and stitched to perfection. Up to 5 people can ride comfortably inside and enjoy this one of a kind experience. From the entrance of the wide open rear hinged opened doors to the star light headliner, as soon as you step inside the Cullinan it is immediately apparent that you are in a high end motor car. Some models even have massage features so you can add a little spa treatment on the way to your destination. Overall when you rent a Cullinan in Houston then you are going to experience the most luxurious and beautiful interior you have ever seen.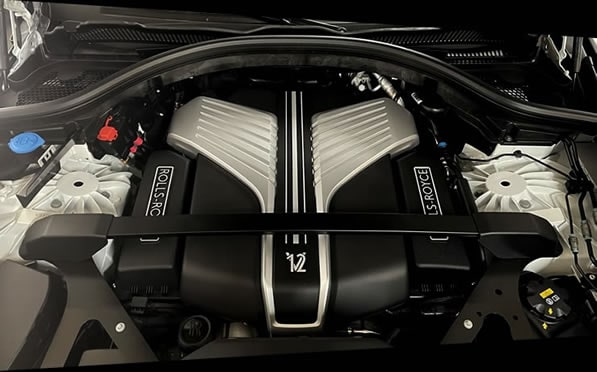 The power of the Cullinan comes from a silent twin-turbo 6.7-liter V-12 motor that packs an incredible 563 horsepower. The Cullinan is no meant to be fast but can still go from 0-to-60 in just 4.8 seconds. The main feature of the powerful V12 is it's silent functionality. The power is built up in a way that makes it feel incredibly smooth. Should you encounter any rough roads while traveling around Houston the Cullinan also has an off road button to help you concur any road you may come across. From it's double-wishbone front axle to the  five-link rear axle this is one of the smoothest rides you will ever experience.
ABOUT HOUSTON ROLLS ROYCE CULLINAN RENTALS
The Cullinan is one of the best luxury SUV rentals in Houston. With it's large bespoke cabin and incredibly smooth ride you will be hard pressed to find a luxury car rental that compares. The Cullinan is great for family trips or just rides around Houston with friends. The Rolls Royce Cullinan rental service in Houston is a great way to drive around in style for your next big event. You can rent a Rolls Royce Cullinan in Houston for a wedding, birthday, anniversary, prom, or any special occasion that might be coming up. We can have a brand new Cullinan delivered right to your driveway in Houston with just one phone call.
The Cullinan is the most expensive luxury SUV in the world and it's rental cost is reflective upon that. You can expect to pay anyhwhere from $1595 to $2295 per day depending on the year and condition of the model that is available. You are also required to leave a security deposit between $5,000-$10,000 on a credit card. The deposit depends on your age, insurance, and history of renting exotic cars. Give us a call and we can give you an exact quote for the days you would like to rent the Cullinan. Our goal is to provide you with the best Rolls Royce rentals in Houston at the best price possible.
The least amount of time you can reserve the Cullinan in Houston is 24 hours. This applies to all of the Rolls Royce rentals in Houston. We do provide Rolls Royce chauffeur services in Houston that include the Cullinan and only require a 4 hour minimum. For more details on our luxury car rentals in Houston feel free to call us or send us a message.