The Rolls Royce Ghost is one of the most luxurious sedans in the world. It is a large full size sedan and is meant to be the drivers car in the lineup of Houston Rolls Royce rentals. The Ghost comes with the iconic Rolls Royce grill and elegant silhouette they are known for. When you rent a Rolls Royce Ghost in Houston you will be driving one of the smoothest and most elegant cars around. The Ghost has a suspension system that makes you feel like you are hovering over the street.
The Rolls Royce Ghost has those smooth flowing lines that give this marvel of engineering it's iconic look. The first thing you notice when you rent a Rolls Royce Ghost in Houston and it arrives is the large Rolls Royce grill and beautiful horizontal led headlights up front. Like with all Rolls Royce models the Ghost also has the rear hinged coach doors. These doors open the opposite way of traditional doors and allow easier access to passengers with a larger entryway. The Ghost is also a very large sedan. It has a certain presence about it. You have to see it for yourself to fully understand the magic that happens when you see a Rolls Royce pass by.
Inside of the Rolls Royce Ghost you have a beautifully hand crafted interior that has enough space for five. The interior is built to perfection with the finest materials in the world. Everything is put together with meticulous detail. The Ghost also has a premium sound system and the Rolls Royce infotainment system allows you to pair your phone and listen to your favorite songs as you explore Houston in the comfort of a Rolls Royce. One of the best perks of riding in a Rolls Royce is how quite the interior is. Due to a variety of sound dampening technologies when you ride inside a Rolls Royce you can hear a pin drop.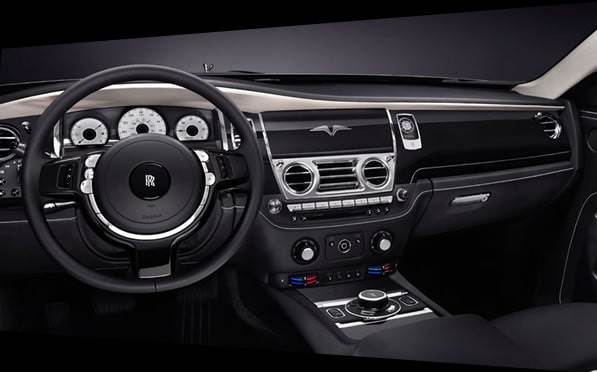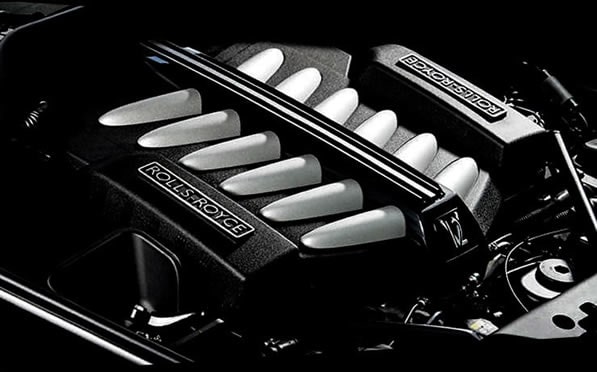 Under the hood of this Rolls Royce Ghost is a twin turbo 6.6-liter V-12 engine that packs 563 horses. The powerful V12 can take the Ghost from 0-60mph in 4.8 seconds. The top speed is limited to 155 mph but this is not a car you want to go fast in. The performance is there with it's massive engine but the power comes smoothly and the engine doesn't make a sound. The Ghost suspension is also one of it's top performance features. The premium ride quality when driving inside a Rolls Royce is unparalleled to any other automobile. Rent a Ghost in Houston and find out for yourself.
ABOUT HOUSTON ROLLS ROYCE GHOST RENTALS
If you have a special event coming up or are traveling to Houston and want to rent a luxury car the Ghost is one of the best options. Rolls Royce is known for producing some of the most luxurious cars in the world and the Ghost is no exception. With it's elegant exterior and bespoke luxury interior there are not many reasons why you would not want to rent a Rolls Royce Ghost in Houston.The Ghost is perfect for celebrating a birthday, celebrating an anniversary, or driving away in a Rolls Royce on your wedding day. Experience a world of luxury with a Houston Rolls Royce Ghost rental this weekend. We can have your favorite luxury cars delivered right to the driveway of your home or hotel.
The cost to rent a Rolls Royce Ghost in Houston starts at $995 per day. Depending on the model that is available and the time of year prices may vary. There is also a security deposit required of anywhere between $3,000 and $5,000 depending on the insurance coverage you provide and your age. We are dedicated to providing you with the best Rolls Royce rentals in Houston at a great price. If you already know the dates you would like to rent the Ghost in Houston give us a call and we can give you an exact quote for the days you need it.
If you are interested in driving a Rolls Royce in Houston the minimum amount of time you can reserve it for is 24 hours. If you would just like to drive it for a couple of hours then we can schedule an early pickup but you will still need to pay for the full day. We also have another option if you only need the car for a couple of hours. Our Houston luxury chauffeur service allows you to sit back and relax while a professional driver takes you around Houston in the back seat of a luxurious Rolls Royce Ghost.