The Cayenne is a high performance luxury SUV and a great Porsche rental option in Orlando. It features the timeless Porsche design with plenty of performance and a luxurious interior. Rent a Porsche Cayenne coupe in Orlando and visit one of the many attractions with your friends and family in style. The Cayenne is built with Porsche DNA and blends a comfortable ride and a powerful motor for a fun time around the magical city. Visit one of the many theme parks with your family and friends in a new Porsche Cayenne Coupe today.
The Cayenne coupe has a sloped roof design with a contermporary look that is sure to impress. The new Cayenne is more beautiful than ever with it's rear light bar design and sleek 22 inch wheels. The front bumper design remains fairly similar but adds a touch of refinement that is easy on the eyes. The rear design has a beautiful design with the long rear tail light that extends the width of the rear. The new Cayenne coupe is wider, sleeker, and lower than ever for a true sports car feel in a luxury SUV rental. See this new sports SUV for yourself when you rent a Porsche Cayenne in Orlando this weekend.
The Cayenne Coupe features a beautifully crafted leather interior. When you step inside this luxury SUV you can immediately tell it has a solid build quality using quality materials. The front seats are 14-way power adjustable so you can configure them in the most comfortable position. The sloping roof line doesn't take to much head room away and rear passengers have a decent amount of leg room as well. The new Cayenne Coupe is very comfortable and will provide you and your friends with a luxurious interior for your friends and family to ride in comfort. It comes with a 10-speaker audio system and 12.3-inch touchscreen display to control all of it's features. It also comes with carplay so you can integrate your phone and use your favorite music and navigation apps.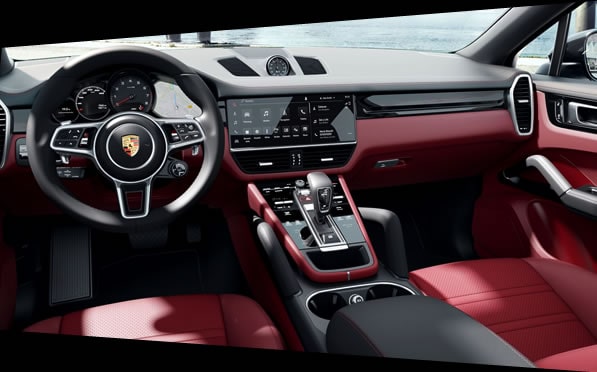 When it comes to performance the Porsche Cayenne is no slouch. Under the hood sits a twin turbo 3.0-liter V6 motor that can take the Cayenne from 0-60 in just 5.7 seconds. As you would expect from a Porsche the Cayenne handles incredibly well. It is one of the best handling SUV's in it's class. The engine is the paired to an 8-speed dual clutch automatic transmission for instant shifts at any speed. For the suspension the Cayenne uses Porsche Dynamic Chassis Control with active sway bars to reduce body roll and give you an extremely smooth ride.
About Orlando Porsche Cayenne Coupe rentals
The Porsche Cayenne Coupe is a fun and beautiful sports SUV to rent in Orlando. It provides an optimum blend of style and performance making it a fun luxury car rental for Orlando. Rent a Porsche Cayenne and experience the luxury interior and stylish design while you visit one of the many fun attractions in Orlando. Why settle for an average luxury SUV when you can drive your favorite sports SUV in Orlando this weekend. Whether your looking to rent a Porsche Cayenne in Orlando for fun or are celebrating a special occasion like an anniversary or birthday we can delivery a brand new Porsche Cayenne coupe to your hotel, home, or venue in Orlando.
The price to rent a Cayenne Coupe in Orlando can range anywhere between $495-$795 per day. You are also required to leave a security deposit prior to receiving the car that ranges from $1,500 to $3,000 depending on your insurance. We also provide long term Porsche rentals at a reduced price. Our mission is to provide you with the best Porsche rentals in Orlando at an affordable price.
The lowest amount of time you can reserve a Porsche Cayenne in Orlando is 24 hours. We do not provide any of the Porsche rentals on our website on an hourly basis. If you only need the car for a couple of hours you can always arrange for an early pickup but will still be required to pay for the full day.