The Rolls Royce Dawn is the most luxurious convertible in the world and is now available for hire with a driver in New York. A professional driver will pick you up wherever you require and take you around NY in a stylish luxury convertible. The iconic Rolls Royce grill and elegant body design of the Rolls Royce Dawn make it a top tier chauffeur option if you only need one or two seats. It's a great option if your getting married or celebrating an anniversary with your spouse. Overall the Dawn is an exceptional limo option for the tri-city area and will make your day a memorable one.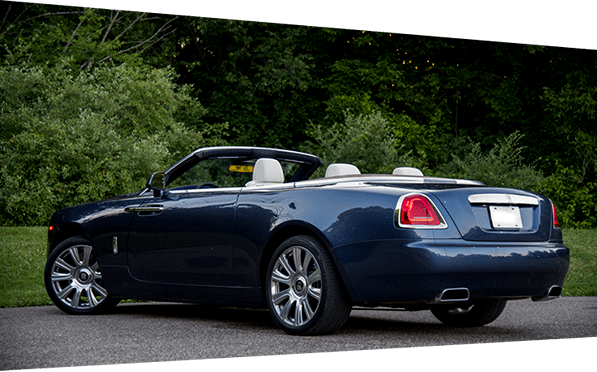 The design of the Rolls Royce Dawn is elegant with smooth lines extending the length of the body. The spirit of ecstasy and iconic Rolls Royce grill are the first thing you will notice when the Dawn arrives at your residence. It just has a majestic feel of opulence and a level of refinement not found in any other vehicle. When you hire a Rolls Royce Dawn with a chauffeur in NYC you are getting driven around town in the best of the best. Watching the Rolls Royce Dawn arrive at your location is an experience in itself. When the driver opens the rear-hinged coach doors you will see what it feels like to be driven around the city in the ultimate luxury convertible.Due to the fact that the Dawn is convertible it allows you to experience a limo service like never before. You can instruct the driver on whether you would like the top up or down during your journey so he can have the car ready to go when he arrives.
The rear seat of the Dawn is were it really separates itself from other luxury convertibles. The hand crafted leather interior is nothing short of perfection. Compared to other convertibles there is a large amount of space in the rear for you to ride comfortably and have enough room so that your legs are cramped. You can sit 2 in the rear and can also have someone ride up front if you prefer. Explore a luxury oasis as you get driven around New York in the back seat of the most luxurious convertible ever made. With the top up you can hear a pin drop. This is also one of the quietest convertibles you will ever ride in. If you prefer to get driven around with the top down just let the driver know and he will drop the top and you can have a whole different travel experience.There's nothing more luxurious than riding in the back seat of any Rolls Royce limo car but the Dawn is not always available for chauffeur which makes it a once in a lifetime limo experience.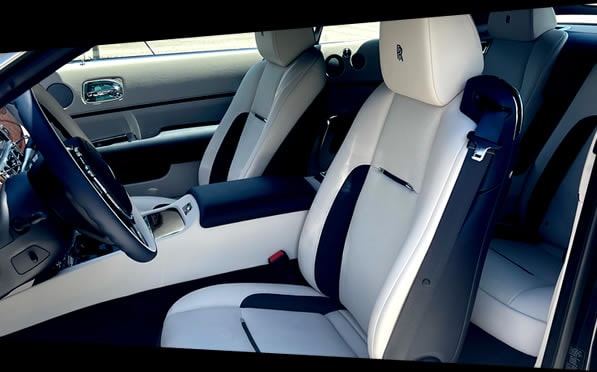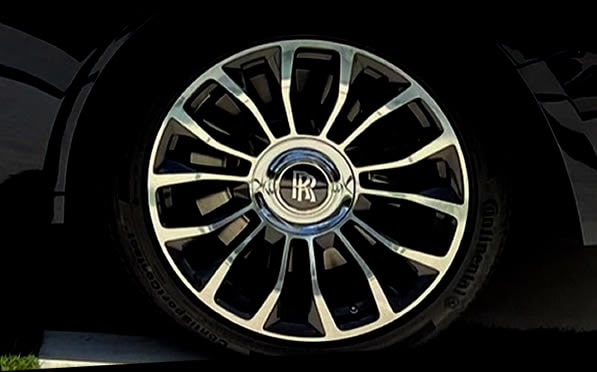 When it comes to ride performance and quality there is no other vehicle that can match the magic carpet ride. This is what Rolls Royce calls it's advanced air suspension system that provides the smoothest ride possible by using multiple cameras and GPS sensors to anticipate road conditions and adjust accordingly. The Dawn isn't only a good looking convertible but also one of the smoothest riding you will ever encounter. Our customers attribute the ride to floating over the air as if they were riding a cloud. There is a 6.6-litre V12 twin-turbo engine under the hood but it's so smooth and quiet that you won't even know its their. Make that special day unforgettable and experience a one of a kind luxury chauffeur in NY this weekend.
MORE LUXURY CHAUFFEUR OPTIONS
About NYC Rolls Royce Dawn chauffeur service
The Dawn is one of the most exclusive luxury convertibles in the world. It's combination of refined exterior design, opulent interior and long heritage of being the top luxury cars in the world make it a great Rolls Royce to hire with a driver in New York. Everything about this luxury convertible speaks luxury. If you won't settle for anything but the best for your next wedding, anniversary, birthday or child's prom then the Dawn is the king of the hill. Although it does have a massive V12 engine under the hood you can barely hear it even when you step on the gas. Get driven around New York in the comfort of in an iconic Rolls Royce convertible. We can have a chauffeur pick you up anywhere in the Big Apple and take you wherever you would like to go.
The hourly rate to hire a Rolls Royce Dawn with a driver starts from $450 per hour. This rate does not include any taxes, services fees, fuel surcharges or tolls. If you would like to get an exact quote for the amount of hours you would like to be chauffeured in the Rolls Royce Dawn feel free to give us a call. We can answer any questions regarding pricing and availability and help you find the perfect car for that special night. During holidays and busy weekend prices can be slightly higher so it's always best to book in advance to secure the car. Our mission is to provide you with the best Rolls Royce chauffeur service in New York at the lowest price possible.
The lowest amount of time we can provide you with a Rolls Royce Dawn limo is 4 hours. During prom season and major holidays there can be a higher 5-8 hour minimum.