If your ready to experience a Porsche SUV rental like no other then the Macan S is a great option. The Macan is a fine addition to Porsche's contemporary lineup. You can rent a Porsche Macan S in Miami for a day, weekend, weekly or on a monthly basis. The Macan is a crossover SUV that drives like a sports car. It really drives nice and  has incredible handling. Its also won numerous awards and is a very popular entry level Porsche. It's also one of the cheapest luxury SUV rentals in Miami. Overall the Macan provides great value and you will be impressed by how much fun it is to drive.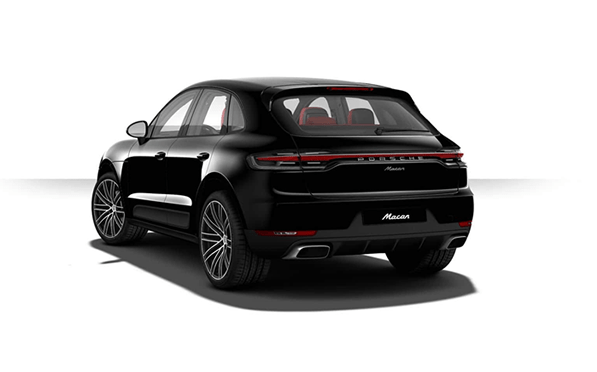 The exterior like most in the lineup is unmistakably a Porsche. It is a medium sized luxury SUV with an athletic character. The Porsche Macan looks like a smaller version of the Cayenne Coupe. Its rounded edges and Porsche DNA give it a sports car feel. The iconic Porsche LED headlights and front design carry through beautifully to the Macan. The 20 inch wheels also add to the sports car feel of the Macan. This SUV gets a lot of looks when driving around Miami Beach. Overall it has a sporty feel and drives like a sports car. There are not a lot of cars that are this sleek and provide for a fun driving experience at this price point. You will enjoy every second in Miami while driving your Porsche Macan rental.
The Macan has a beautiful luxury interior with a sporty side. Inside the Macan you have 5 seats. The controls on the center dash give you quick access to all of the engines features. The leather seats are very comfortable and draped in leather. It also includes a 10.9-inch touchscreen infotainment system with car play so you can connect your phone and play your music through the premium 10-speaker audio system. It also allows you to use your favorite navigation apps and more. Overall the Macan has a nice interior and looks similar and feel to the other more premium Porsche rentals. You won't feel the bumps because The Macan S has a super smooth ride thanks to adaptive dampers and air springs.
The Macan S which has a twin turbo v6 engine that produces 348 horsepower is a little beast in the street. The 375-hp twin-turbo 2.9-liter V-6 gives the Macan great performance especially when you put it in sports mode. The powerful engine is paired with a 7-speed dual-clutch automatic giving this sporty SUV quick shifting at any gear. All of the models come standard with all-wheel drive and the suspension was labeled best in class for 2018.  It also has incredible handling that will get you around sharp turns with no effort. The sharp handling precision is carried out throughout all the Porsche rentals in Miami.
ABOUT MIAMI PORSCHE MACAN RENTALS
The Porsche Macan is an agile SUV with a sports car touch that is also afforable. We provide free delivery of all Porsche Macan rentals in Miami to Miami Beach, South Beach, Mid Beach, Sunny Isles, Doral and Miami Airport. Our goal is to make the process of renting a luxury car in Miami as simple and easy as possible. Our concierge team is standing by to help you choose the right car for your next vacation to Miami Beach. If you have any questions regarding our Miami Luxury car rental process give us a call. We're happy to help you find a nice set of wheels to cruise South Beach. Rent a Porsche Macan today at Luxury Car Rental USA and your luxury car rental experience will never be the same.
The cost to rent a Porsche Macan in Miami starts at $299 per day but can vary depending on availability as well as the time of the year. For long term rentals over 7 days we provide additional discounts. We also provide long term luxury car rental packages in Miami. You won't need to pay extra for insurance but you will have to provide proof of full coverage insurance. You are also required to charge a $1,000 security deposit on the day of the rental. You could transfer your own insurance coverage to the car while you're driving it in order to avoid paying any extra cost for insurance. This is one of the most affordable Porsche rentals in Miami.
The least amount of time you can rent a Porsche Macan is 24 hours or one full day. We don't provide hourly Porsche Macan rentals but you can always hire a Porsche Cayenne with a driver if you want to rent a Porsche SUV for a couple hours . You always have the option to return the Macan earlier but will still be charged the full 24 hours. These cars are in high demand and would not be available for other customers if we did hourly rentals.