If your looking to rent a Mercedes in Miami with an iconic design then the G550 is a great option. Our G Wagon rental service is a great luxury SUV to rent when traveling with friends or family in Miami. The Mercedes-Benz G550 can handle any terrain and it does it in style. The perfect combination of toughness and performance it has become one of the most popular SUV's to rent in South Florida. Rent a luxury car in Miami that has ample room for all of your luggage and plenty of head and leg room. Whether you rent a G wagon or the upgraded G63 version you will have tons of space to kick back and relax. We offer daily, weekend and even monthly Mercedes G550 rentals in Miami.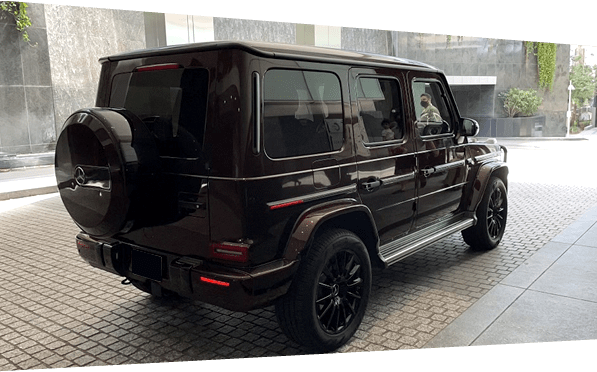 For over 34 years the G-class exterior has not changed much. It was originally used for military applications but has become an icon in the luxury SUV segment. The timeless design has withstood the test of time over the years and it one of our most requested luxury SUV rentals in Miami. Just imagine yourself behind the wheel of the G550 rental in Miami with it's iconic design and it's rugged look. This is the most beautiful version yet and has the most refined exterior while still staying true to it's original design.
Inside the G Wagon, you will find high-quality hand-stitched Nappa leather and all the technology you can expect to find in a Mercedes-Benz rental. The G-class has a simple yet modern cabin with an advanced infotainment system that allows you to connect your phone for listening to music or hands-free calling. The front seats have a 10-way power seat adjustment to make sure the car is tailored to your driving style. The G550 also has a beautifully sounding Harman Kardon sound system with 12 speakers throughout the cabin. We aim to provide the best SUV's for rent in Miami. The interior is uncompromising and functional providing  maximize interior space for you and whoever is lucky enough to come along for the ride.
The G550 is powered by a 4.0L twin turbo engine that produces 416 horsepower. For a large SUV, the G-wagon can go from 0-60 in an impressive 5.6 seconds which is .2 seconds faster than the previous model. The G wagon has a permanent four-wheel drive system that allows you to concur any road in Miami. The innovative design of the engine combines racing-derived tech with low-friction cylinder walls and a "Hot inside V" turbocharger configuration. The G550's V8's twin turbos are placed inside the "V" of the engine giving it a more compact design while still proving more power than some larger engines. It only has a top speed of 130mph but this car isn't meant to go fast.
ABOUT MIAMI MERCEDES G550 RENTALS
From it's refined exterior to its luxurious interior this is a great luxury SUV rental option for Miami. It has plenty of interior room and is probably one of the most spacious Mercedes-Benz rentals in Miami. We have several available so you can rent two if you prefer and you and your friends can be driving around Miami like bosses. The cars are in such high demand that you can't even buy one. If your still on the list to buy one you can  rent a G550 before yours arrives. These are some of the most popular Mercedes SUV's to rent in Miami. Rent a G wagon for your next birthday, wedding, or business meeting.
The Cost to rent a G wagon in Miami starts from $495 per day. Depending on the year and condition of the car prices can go up to $1195. We also require a security deposit of $2,500 on the day of the rental. For long-term Mercedes rentals give us a call and we can provide you with special discounted rates. As with all of our Miami luxury rental cars we offer FREE delivery to Miami International Airport. We also deliver to Miami Beach, South Beach, Downtown, Brickell, Wynwood, Midtown, Biscayne and anywhere in South Florida. Experience South Florida in comfortable SUV and rent Mercedes Benz G550 in Miami today!
The least amount of time you can rent a Mercedes G550 in Miami is one day. This is a full 24 hours with this iconic Mercedes SUV. You always have the option to return the G-Class earlier but you will still be required to pay for the full day. Because these cars are in such high demand and we have  limited cars available there are no exceptions to this minimum.