Drive the new more luxurious than ever Cadillac Escalade in Miami today. You can rent a Cadillac Escalade in Miami Beach for a day, weekend, or for even on a monthly basis. The Escalade is an iconic American luxury SUV that has been recently upgraded with an all new design as well as upgraded performance. The Escalade has plenty of room for you and all your friends and family to ride around Miami in style. This is the best looking Escalade so far and now has a modern designed interior with 2 large digital screens to help you easily navigate around Miami Beach like a local. It's the most technologically advanced Escalade yet and it's available for rent in Miami today.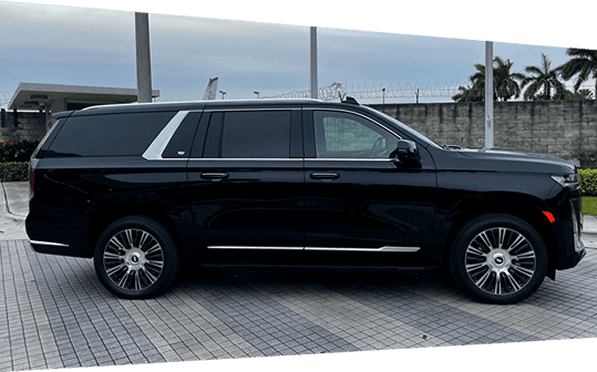 The next-generation design of the new Cadillac Escalade makes it a nice
looking luxury SUV to rent in Miami. The all new massive from grill and sleek horizontal design of the headlights give it an unmistakable Cadillac appeal. Just one glance at the Escalade and you can tell your up for a smooth ride. Drive around Miami Beach in a stylish Cadillac Escalade today and enjoy the Cadillac experience for yourself. The large body of the Escalade makes it a preferred option for athletes and celebrities who are taller. Over the years the Escalade has become one of the most popular Luxury SUV's to rent in Miami. We have two color options available in Miami black raven or crystal white. The Escalade also gives you 121 cubic feet of space in the rear.
The exterior isn't the only area that received a major revamp. The interior has also been redesigned to look more modern and luxurious. Let's start with the first thing you'll see when you step in the Escalade for the first time the massive displays. The new digital displays provide a massive amount of screen realty. Combined the screens provide the first ever car with curved OLED displays and a total of 38 inches of pixels with all the info about your driving experience. The navigation maps can be placed on the gauge cluster to allow you to keep your eyes on the road. Like with every Escalade rental you'll have plenty of space for up to 5 people and also have a decent amount of room in the rear for all of your luggage. Draped in premium hand crafted leather and a premium feel the interior is extremely comfortable and luxurious.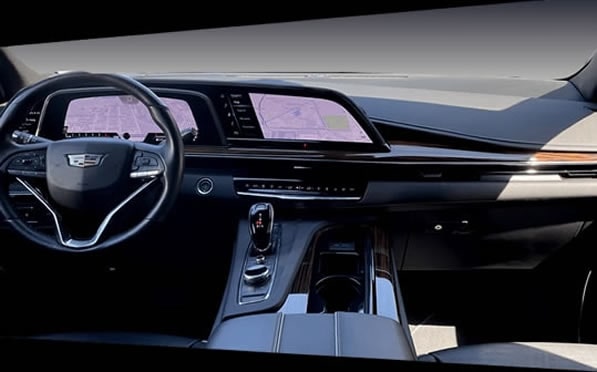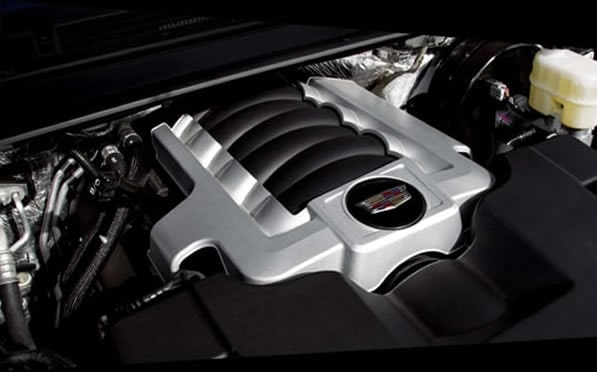 Under the hood of the new Cadillac Escalade is a 6.2 Litre V8 engine. The powerful V8 puts out an impressive 420 horsepower. This might not be a fast SUV but after all it is not meant to go fast. The engine is paired with a 10-speed automatic transmission that can be configured in rear wheel drive or all wheel drive mode. The Cadillac Escalade can go from 0-60 in 5.9 seconds. This luxury SUV is made to cruise and due to the powerful engine it provides a good amount of torque to get you where you need to go. The engine uses a push rod 16-valve system and is made from aluminum with direct fuel injection. The Escalade's ride and handling are impressive for such a large luxury vehicle. The independent rear suspension also helps the Escalade overcome any obstacles it faces on your adventure in Miami.
ABOUT MIAMI CADILLAC ESCALADE RENTALS
The Escalade is a great car to rent in Miami if your traveling with friends and family. It has a large amount of interior space to seat 5 comfortably and a sleek modern design to make anyone walking by take a second look. Escalade rentals are extremely popular for weddings and anniversaries. The elegant design and iconic grill make it a must have addition to your memorable day. We can have your favorite Escalade delivered for free to anywhere in Miami including Miami International Airport, Miami Beach, South Beach, Mid Beach, Brickell, Downtown Miami, Key Biscayne, Coral Gables, Doral, Midtown, and Wynwood or anywhere nearby. There's no better way then to see for yourself why customers love the Escalade.
The cost to rent a new Cadillac Escalade in Miami can range from  $495 a day to $895 a day. There is also a $1,000 security deposit that is placed on your card on the day of the rental. If you need any additional info like exact pricing regarding our luxury rentals in Miami feel free to give us a call. You won't even have to pay any delivery fees as we can have your favorite Cadillac  Escalade waiting for you outside of your location for free. We are dedicated to providing you with the best Escalade rentals in Miami at an affordable price. To receive an exact quote for one of the Cadillac Rentals in Miami give us a call.
The least amount of time you can rent an Escalade in Miami is one day. So we don't provide hourly Escalade but we do offer hourly Chauffeur services. With our luxury Chauffeur service not only will you have a beautiful luxury SUV but also a driver to take you anywhere you would like to go. This means that you can not rent a Cadillac Escalade for less than 24 hours. You always have the option to return the car earlier but will still be billed for the full 24 hours. Because there is limited cars available and we have such a high demand there are no exceptions.