The Porsche Macan is a compact crossover SUV that drives like a sports car with incredible handling and great performance. You can rent a Porsche Macan in Los Angeles this weekend for as long as you need it. Due to its small size the Macan is easy to drive and provides a good amount of interior space. The Macan is a great luxury car rental option in Beverly Hills due to its affordable price point and stylish looks. The Macan is the most sold Porsche ever which is probably why it's such a popular rental car in LA. Overall the Macan is a fun car to drive and provides incredible value if your looking for the best bang for your buck.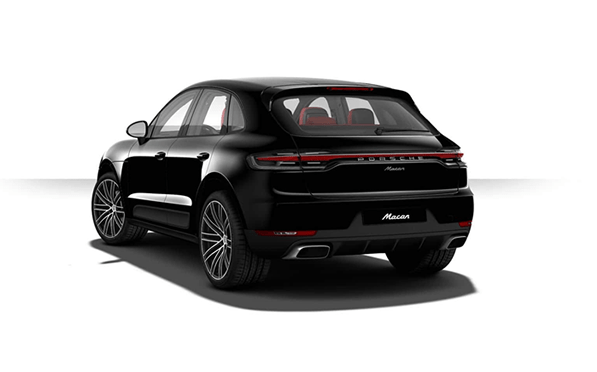 When you first glance at the Porsche Macan you can tell it's unmistakably a Porsche. The style is similar to what you would see in the Cayenne but scaled down and given more of a sporty look. It actually looks very similar to the Cayenne Coupe with it's slopped rear roof line. Most people that are not into cars usually can't tell the difference between the two. The Macan comes with the iconic Porsche LED headlights that provide a good amount of light for roaming LA at night on your way to your favorite restaurants. The new Macan also comes with new rear tail lights with a single LED light bar that looks like the other newly released Porsche rentals we offer in LA. The Macan also comes with sleek 20 inch wheels for a sportier look.
The inside of the Macan is everything you would expect from a luxury SUV. The seats are covered in leather and there is enough space for 5 to experience the streets of LA in style. There is a large 10.9 inch touch screen in the center that gives you quick access to all of the cars settings. The infotainment system also features Carplay to allow you to plug in your phone and bring your favorite songs along for the ride. It also allows you to use your favorite Navigation apps with your saved destinations so you can plan all the places you want to visit before you come. The premium 10-speaker sound system really brings your songs to life. Overall the Macan interior is incredibly spacious for a compact luxury SUV and provides a smooth ride.
The Macan S features a twin turbo 2.9-liter V6 engine under the hood. The fine tuned V6 that puts out 375 horsepower but it feels like much more. When put into sports mode you can really appreciate the performance and it gives you instant throttle responses that bring the car to life. The V6 is combined with a 7-speed dual-clutch automatic transmission for incredibly smooth and precise shifts. It also comes with all wheel drive for maximum control over any terrain. The handling is incredible and makes quick work of sharp turns. Another welcome feature is the adaptive dampers and air springs that help make it a smooth SUV for long trips around Beverly Hills.
About LA Porsche Macan rentals
The Porsche Macan is an incredibly agile luxury SUV that has enough room to seat up to 5 people and has a good amount of space in the trunk. It's the most affordable Porsche rental in Los Angeles and still provides a great car rental experience. The compact design and incredible performance make it a great option if your looking to rent an SUV in Beverly Hills for you and your friends to get around in style. We can even have a Porsche Macan delivered directly to your home or hotel in Beverly Park, Redondo Beach, Bel-Air Estates, Upper Laurel Canyon, Palos Verdes Estates, West Hollywood, Beverly Hills, Malibu, Manhattan Beach, Hidden Hills, Rolling Hills, and Brentwood Park. We can also have a Porche Macan waiting for you at Los Angeles International Airport (LAX) upon request.
The daily rate to rent a Porsche Macan in Los Angeles starts from $299. Depending on what model is available the price may very. For instance the Porsche Macan S or Turbo models fetch a higher rental rate then the base model.  For long term Porsche Macan rentals over 7 days we provide additional weekly discounts. There is also a security deposit of $1,000 that must be paid prior to your rental. Depending on what model is available and what insurance you provide we may waive the deposit. The Macan is one of the most affordable Porsche rentals in Los Angeles and is a great car for the money. Our goal is to provide our customers with the best Porsche rentals in Los Angeles at the best price.
You cannot rent a Porsche Macan on an hourly basis. The lowest amount of time you can rent a Porsche Macan is 24 hours. If you just need the car for an hour or two we can provide drop off and early pickup but you will still be charged for the full 24 hours. These cars are in very high demand and there are limited models available in LA.If you have any other questions regarding our requirements feel free to give us a call.