The Mercedes GLC 63 is a beautiful compact luxury SUV rental for Los Angeles. You now have the option to rent a GLC 63s in LA for as long as you need it. The AMG version of the GLC provides more performance and little touches of refinement throughout the vehicle. Due to it's compact size it makes it easy to park and drive around LA. It's a very powerful Mercedes for it's size and one of our customers favorites. Get behind the wheel of one of the best Mercedes SUV rentals in Beverly Hills.
The exterior of the Mercedes GLC 63 AMG looks similar to the base model GLC but has some subtle touches of refinement.  It's sloped roof lines make it look sportier than most luxury SUV rentals in LA. The exterior leaves nothing to be desired with chrome accents and large wheels it stands out as a unique luxury vehicle. AMG exhaust tips and other design elements from the AMG GT are predominant in the design of the front grill and lower bumper. The signature 21 inch AMG wheels are one of the features that are only found in the AMG model.  If you would like to rent a sleek premium SUV that's easy to drive and provides a compact design then this is one of the funnest cars you can rent in LA.
Inside the GLC 63 Coupe you will find a world of luxury. It seats 5 people comfortably and exemplifies the best AMG has to offer. For a compact luxury SUV it provides a decent amount of interior space but is much more compact then other Mercedes rentals like the Mercedes G63 G Wagon. In the front there are two bucket seats that give it sports car feel while being covered in the finest Nappa leather. There are two screens inside one for the instrument cluster and the other for the navigation and media settings. As with all AMG Mercedes rentals the GLC 63 comes with Apple Car Play and Android Auto to allow you to plug in your phone and have access to all your info. You can play your favorite songs though the premium sound system while driving down the pacific coast highway.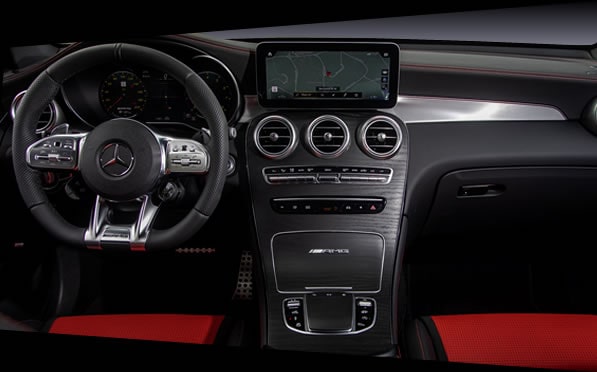 Where the GLC 63 really excels is under the hood. This is one of the fastest and most fully equipped luxury SUV rentals for Los Angeles. It features a bi-turbo 4 liter 503-hp twin-turbo V-8 engine that roars when you step on the gas. The powerful engine is combines with a nine-speed automatic transmission for incredible performance. There are 6 driving modes to choose from such as comfort, slippery, sport, and sports plus. The AMG exhaust system makes some incredible sounds that remind you that this isn't your average Mercedes rental car. This compact luxury SUV can go from 0-60 in just 3.8 seconds. Overall our customer love this sleek luxury SUV and you will too as soon as you step inside. See for yourself why everyone is talking about the new Mercedes GLC renal in LA.
About LA Mercedes GLC 63 S Coupe rentals
The AMG GLC is an exceptional vehicle with performance in mind. If you already own a base model GLC and want to to see what all the hype is about, this is your chance. The AMG model is sleek with all of the luxury features you could as for while also providing a powerful ride to cruise down Rodeo Drive. It's a great luxury car rental for traveling when your bringing along a couple friends and family. You can also rent an AMG GLC for a special event like a business meeting, birthday celebration, wedding, or anniversary. The best part about the Mercedes rentals we provide is that we can arrange delivery right to your door. We can have this AMG GLC delivered to Malibu, Redondo Beach, Manhattan Beach, Bel-Air Estates, Upper Laurel Canyon, Hidden Hills, Rolling Hills, Beverly Park, Beverly Hills, Palos Verdes Estates, West Hollywood, Brentwood Park and even Los Angeles International Airport (LAX).
The AMG GLC is a premium luxury car rental that isn't cheap but is more affordable then other SUV's like the Lamborghini URUS or Bentley Bentayga. The price to rent a Mercedes AMG GLC 63 in Los Angeles ranges from $599-$895 for 24 hours. We also require a security deposit that varies between $1,000 and $5,000 depending on what insurance policy you provide. Our mission is to find you the best Mercedes rentals in Los Angeles at the cheapest price. 
We do not offer any hourly Mercedes rentals in LA. The least amount of time you can rent a Mercedes in Los Angeles is 24 hours. If you just need the car for a couple hours we can arrange for early pickup but you will still be required to pay for the full 24 hours. These cars are in very high demand and there are limited available so we cannot rent a car for just an hour or two.