The Mercedes G wagon has become one of the most popular Mercedes rentals in Los Angeles. You can rent a G-Class Mercedes in Beverly Hills for a day, weekend or even for the entire week. The rugged exterior combined with a powerful engine and an ultra-luxurious interior is what the modern G wagon offers. The seats are covered in high-quality Nappa leather that is hand fitted to ensure a perfect fit while being extremly comfortable for longer trips around Beverly Hills. Athletes, Celebrities, and CEO's all love the iconic design and large amount of interior space. This all terrain luxury SUV will surely make for an unforgettable adventure in California.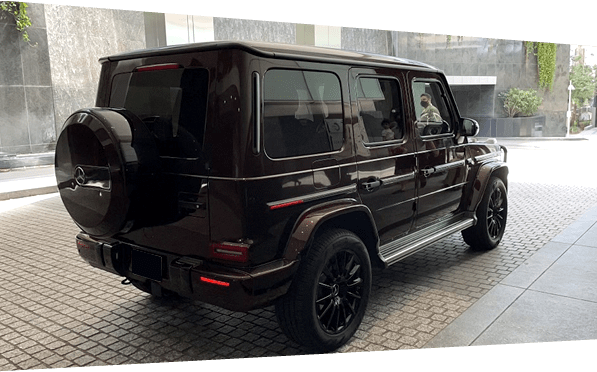 The G550 was originally created to be used in military applications and the boxed body has not changed much over 34 years. The ageless design of the G-Class continues to be one of the most popular luxury SUV rental requests.The G-Class is large and in charge you can feel the quality every time you open and close the doors. Picture yourself traveling down the pacific highway in the flagship SUV by Mercedes-Benz. For a design that hasn't changed much and is still a popular choice today is a testament to it's timeless design. The new model's subtle changes keep the iconic look while updating small things like the rear led tail lights and new headlights. Drive this classic Mercedes luxury SUV renal in Los Angeles this weekend and see it for yourself.
Due to the box design of the G550 G Wagon it provides a comfortable cabin for up to 5 people. A combination of premium Nappa leather, polished wood and chrome accents add a touch of refined luxury inside the cabin. One of the major differences between the original model and the more modern version you see today is the technology inside. The new G-Class has two massive displays. One is for the instrument cluster and the other displays your navigation information and media controls. The new G wagon comes with a high-end sound system. The infotainment system allows you to control the climate control and comes with Bluetooth to allow you to pair your phone. The G550 also comes with a built-in navigation system that will guide you through the streets of Los Angeles. The G-Class is also one of the safest luxury SUV's to rent in Los Angeles with active blind spot assist, rear view camera and active lane keeping assist.
Under the massive hood of the G550 sits a 4.0L Bi-turbo engine that provides 416 horse power. This might look like a massive SUV but it can still move relative to it's size. This G-class can go from 0-60 in just 5.6 seconds which is slightly faster than the prior model. The G Wagon was built for the outdoors with a permanent four-wheel drive system so you have more control no matter where your driving. This comes in handy when your riding up the Hollywood hills. The combination of it's twin turbo V8 with low-friction cylinder walls and a "Hot inside V" turbocharger setup give you all the torque and performance you could ever ask for. The twin turbos are configured inside the V of the engine to make it more compact yet very capable. The top speed is 130mph and due to it;s size there's really no need to go faster. After all this is a car that you cruise in.
About LA Mercedes G550 rentals
Great for family trips in Los Angeles or anytime your traveling with large groups. A G-wagon rental provides plenty of space for you and your friends. It is a popular choice for football players and basketball players due to a large amount of headroom and legroom. We also offer some special edition models such as the G550 4×4 Squared and the G63 as well if you want to step it up a notch. The standard Mercedes-Benz G-Class also has four-wheel drive so you won't have any problems getting over rough terrains. Get behind the wheel of your favorite Mercedes rental today. We can arrange for delivery of this premium Beverly Hills Mercedes rental to any area in California including Bel-Air Estates, Beverly Hills, Malibu, Hidden Hills, Rolling Hills, Beverly Park, Redondo Beach, Manhattan Beach, Upper Laurel Canyon, Palos Verdes Estates, West Hollywood, Brentwood Park and even Los Angeles International Airport (LAX).
The average cost to rent a Gwagon in Beverly Hills is $699 per day. It can be as high as $1,500 for some G-Class models. During special holidays and during high season the prices may be on the higher side.There is also a security deposit required on the day of your rental. The deposit ranges from $5,000 to $10,000 depending on the insurance coverage you provide. For long-term rentals, we offer special discounted rates. For exact pricing and availability please give us call and we would be happy to assist you with any other questions you have regarding luxury car rentals in LA. We always aim to provide you with the best G wagon rentals in Los Angeles at the cheapest price.
We get calls all the time from photographers, directors and video producers to find out if we can rent the car for an hour or two. The lowest amount of time you can rent a G wagon in Los Angeles is 24 hours. You also have the option to hire a Mercedes with a driver using our luxury chauffeur services. If you decide to hire a G wagon with a chauffeur with a driver the minimum amount of time is 4 hours. You can still rent a G wagon for just an hour or two but you will have to pay for the entire day.