Hire a Cadillac Escalade ESV with a driver in LA today and get driven around Beverly Hills in a spacious and stylish SUV. The Escalade ESV is an iconic SUV that has been used as a limo by many celebrities, executives and just regular people that are looking to be driven around in an elegant SUV. Leave the driving up to us while you sit back and enjoy the ride on your next special occasion. The Escalade is a popular luxury chauffeur option in Los Angeles and will allow you to sit back and relax while a professional driver takes you around in comfort.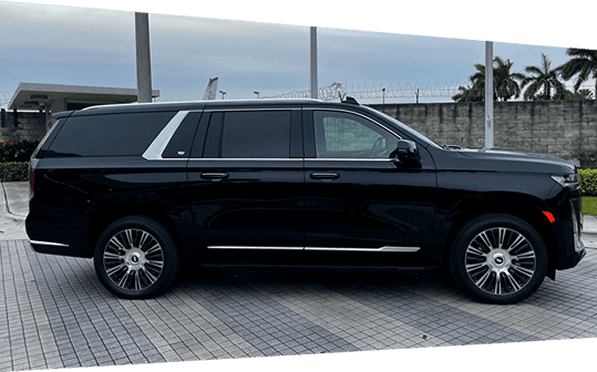 One of the most profound features of the design of the Escalade is the large front grill that has become a status symbol in the US and around the world.The large body and modern design of the new Escalade ESV is one of the best yet. It features all new slim horizontal headlights and vertical fog lights. It's massive size and bold features make it beautiful car to be chauffeured in.There's something special about using our limo service in a Cadillac Escalade. It's an iconic American luxury SUV that has pioneered the luxury SUV industry. It represents a long heritage of American engineering and has always been one of the top luxury chauffeur options in LA. The true American icon that will be the perfect way to travel in on your special day.
The Escalade ESV has an interior that has been richly appointed with leather interior and high-quality trims throughout the vehicle. A premium sound system allows you to enjoy your favorite songs on the way to your venue. This is the largest luxury car rental besides the sprinter in Los Angeles that can seat up to six adults. The Escalade ESV is the extended version and has 2 bucket seats and a bench seat in the back. large luxury SUV that has room for up to 6 passengers with ample room for your luggage. All of the seats can also be folded down in order to provide a vast amount of room for luggage. Hire an Escalade with a driver for your next special occasion. We understand how important your time is which is why we aim to provide the best luxury car service in Beverly Hills.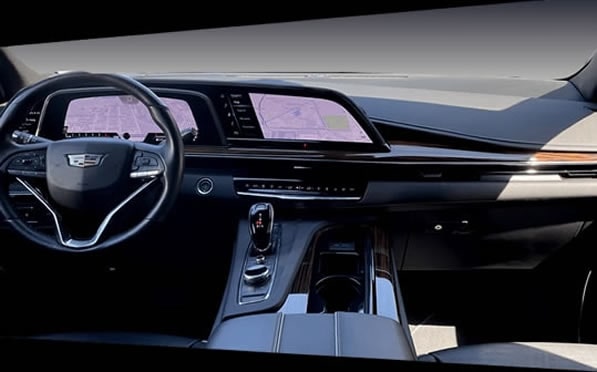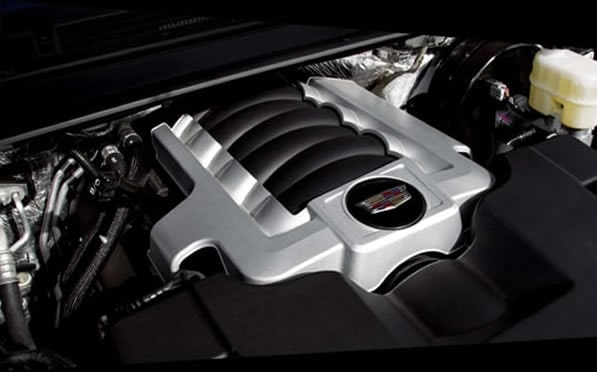 The Escalade is one of the smoothest American luxury SUV's you can hire with a driver in LA. It comes equipped with an state of the art air suspension to cushion the ride when traveling over speed bumps in Los Angeles. Some models even come with a magnetic ride controlled suspension for further comfort. The intuitive driver-assistance features allow your driver to chauffeur you around Beverly Hills safely. You will find the back seat of the Escalade ESV luxurious, spacious and built for long rides. It has sound isolating panels in the body to minimize road noise and give you a smooth experience. In the rear you also have plenty of USB-C outlets so you can plug in your devices on the way to your destination. Rent your favorite luxury SUV with a driver in LA and see what luxury limo services are all about.
MORE LUXURY CHAUFFEUR OPTIONS
About LA Cadillac Escalade ESV chauffeur service
Rent a Cadillac Escalade with a driver in LA for your next special event. You can hire a Cadillac Escalade with a driver for your next corporate event, prom, wedding, anniversary or birthday celebration. Explore the city of Los Angeles inside a top of the line Cadillac chauffeur today.  The iconic design of the Cadillac Escalade is a premium option if you want to arrive at your next event in an elegant and luxurious SUV.  When you hire an Escalade with a driver your getting driven in a car that is not only a premium option but also a safe form of transportation. We are happy to assist you with planning every detail of your trip. Our goal is to provide you with the best possible drivers to drive you around the City of Angels. You can be sure that only the most professional drivers qualify to take you to your next destination. We can deliver this American iconic luxury SUV with a driver to Malibu, Beverly Park, Hidden Hills, Rolling Hills, Bel-Air Estates, Redondo Beach, Manhattan Beach, Upper Laurel Canyon, Palos Verdes Estates, West Hollywood, Brentwood Park, and Los Angeles International Airport.
The cost to hire a Cadillac Escalade with a driver in LA starts from $149 per hour.  This rate does not include any taxes, gratuity or fuel surcharges. If you would like an exact quote for the amount of hours you need a driver call us and we can give you all the details. If you plan on renting the Escalade ESV for multiple day events we have special car hire packages with discounted rates. Our goal is to provide you with the best Cadillac Chauffeurs in Los Angeles at the best price possible. The Escalade chauffeurs available are based out of Beverly Hills so it's best to call in advance to make sure we have an Escalade available at your location. We aim to provide you with the best Cadillac chauffeur options in Los Angeles at the best price possible.
The least amount of time you can hire an Escalade with a driver in Los Angeles is 4 hours.