When it comes to luxury SUV's for a chauffeur in Los Angeles the Cullinan is a great choice. The Cullinan is the most luxurious SUV in the world with features you wont find in any other luxury SUV in the world. Starting with the unique rear hinged coach doors that open elegantly the opposite way of traditional doors. The Cullinan is spacious and luxurious making it one of the best luxury chauffeur options in California. It also features the iconic star light headliner which gives you the option of gazing at the stars while being driven around in style. Give us a call and let one of our professional drivers take you around Beverly Hills in style.
The Cullinan has an elegant design with a large body and smooth flowing lines across the SUV. The first thing you see if the familiar Rolls Royce silhouette and the iconic spirit of ecstasy. The legendary Rolls Royce grill is another styling feature that separates the Cullinan from any other luxury SUV rental available in Los Angeles. The Cullinan is a large SUV although it is shorter and more narrow than the Phantom it has a massive presence and its higher roof gives you more head room for you to ride comfortably. When our driver arrives at your home or hotel in a Rolls Royce Cullinan you will fall in love with it's design at first site. Imagine getting driven around Beverly Hills in this stylish luxury SUV.
When you hire a Rolls Royce Cullinan with a driver you will embarking on the journey of a lifetime. The Cullinan features a luxurious cabin with enough seating for 3 in the rear and one extra passenger up front. Every inch of the interior is covered in high quality leather that is stitched by hand to provide a perfect fit. The soft and sumptuous interior provide the perfect oasis for you to travel in while in Los Angeles. The Cullinan also comes with a high end sound system so you can ask the driver to play your favorite songs and listen to them with the high fidelity sound system. Another feature you will not find in any other limo is the rear hinged coach doors. These doors provide a grand entrance every time you get in and out of the vehicle.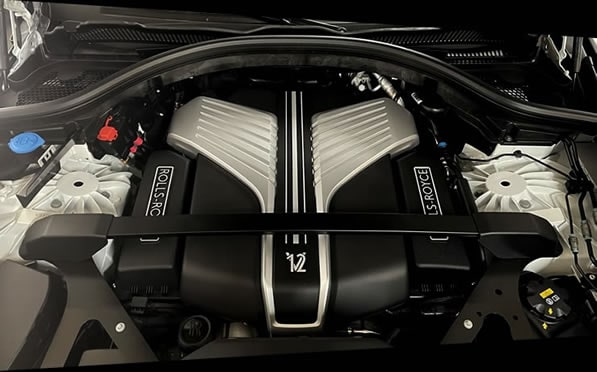 Like with all of the Rolls Royce chauffeurs we provide in Los Angeles the Cullinan truly excels when it comes to ride performance. The magic carpet ride is constantly monitoring the road using a variety of cameras and adjusting the suspension system to provide you with the smoothest ride possible. It comes with a premium air suspension to provide you with the floating experience Rolls Royce chauffeurs are known for. Even though there is a V12 engine under the hood you wont hear a sound coming out of it due to it's superior tuning for maximum smoothness. Los Angeles is a great city to experience the feeling of getting driven around in the most luxurious car in the world. Give us a call today and we can take you to your next event in the comfort of a Rolls Royce Cullinan this weekend.
MORE LUXURY CHAUFFEUR OPTIONS
About Los Angeles Rolls Royce Cullinan chauffeur service
When visiting Los Angeles why not try out a Rolls Royce chauffeur for a night. We can pick you up and take you wherever you would like to go in the back seat of a Rolls Royce SUV. When it comes to limos and luxury chauffeurs there is nothing better than a Rolls Royce. It's a great option for celebrating a wedding, anniversary, birthday, or even to promote a product launch. Experience the best in luxury travel while in Los Angeles when you hire a Rolls Royce with a driver. We can have the car waiting for you outside of your venue, hotel, or home ready to take you around town in style.
The cost to hire the Rolls Royce Cullinan with a driver in LA starts from $450 an hour. This is not including any taxes, gratuity, fuel surcharges or service fees. If you would like an exact quote to hire a Rolls Royce SUV with a driver give is a call and we will give you an exact quote with everything included. We aim to provide our customer with the best Rolls Royce chauffeur options in LA at the best price possible.
The lowest amount of time you can hire any Rolls Royce in Los Angeles is 4 hours. If you would just like an airport transfer or only need the car for an hour or two you can but will still need to pay for the full 4 hour minimum.