Have you ever dreamed of renting a Bentley for an event? You can hire a Bentley Bentayga with a driver in Los Angeles today. Experience the most luxurious SUV in the world. The Bentayga blends comfort, speed, and luxury like no other SUV. When you hire a Bentley Bentayga in LA with a driver you're getting chauffeured in one of the most iconic luxury limo's in LA. Get driven around Beverly Hills in a Bentayga the next time you're in Los Angeles. There has never been a better time to rent a Bentley truck then today.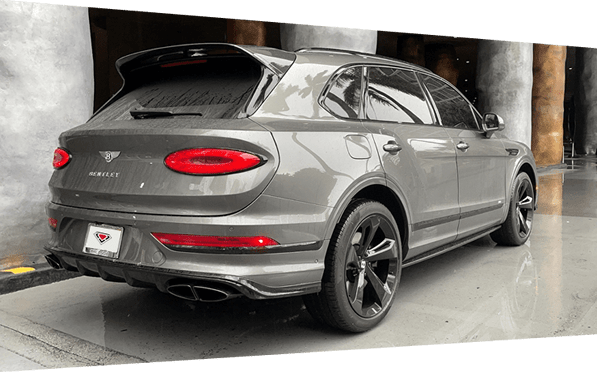 The Bentayga has set the benchmark for what a Luxury SUV should look, feel and sound like. The exterior of the Bentley Bentayga offers a timeless design. When we arrive at your location the first thing that will see are the four familiar round headlights and mesh grill Bentley is known for. The Bentley features fully adaptive LED lamps that fit flush with the body allowing your driver to take you around Beverly Hills safely. The Bentayga is has an elegant design and is a premium car to hire with a driver. Why settle for any old limo chauffeur when you can experience the best of the best and hire a Bentley with a driver in Beverly Hills for your next special occasion.
The bespoke interior inside the Bentayga is second to none. The interior is dully appointed with the highest quality wood veneers and exotic leathers. The leather is hand stitched to perfection and covers every corner of the car. The level of craftsmanship and attention to detail is stunning. Inside you will also be able to experience the Bentley premium sound system. You can let us know what you would like to hear in advance or connect you phone and play your favorite songs. Make your voyage to Beverly Hills inside the back seat of a Bentley Bentayga and experience a true luxury travel experience in Beverly Hills. The Bentayga is comfortable and spacious and will provide room for 3 in the back and one additional passenger in the front.
You and your passengers will be in awe by the smoothness and how quite the interior is when getting driven around LA a the Bentley Bentayga limo. The adaptive air suspension makes bumps on the road feel non existent. It also allows the driver to lower the vehicle so you can enter and exit the vehicle easier. The setting is called access mode and the driver can engage the mode with the push of a button. When you hire a Bentley Bentayga with a driver in Los Angeles you will see just how luxurious is feels to ride in a Bentley Bentayga. The Bentayga even comes with a active anti-roll control system for maximum stability wherever you would like to go. The V engine is powerful but barely heard thanks to the sound isolating materials that are placed throughout the car.
MORE LUXURY CHAUFFEUR OPTIONS
About LA Bentley Bentayga chauffeur service
 This Bentley is the top personal chauffeur option if you're looking for a luxury SUV. The next time you're in LA surround yourself with a comfortable luxurious space when you hire a Bentayga with a driver. Rent a Bentley Bentayga with a driver for a Wedding, Prom, Anniversary, Birthday, Business Meeting or Corporate event. The Bentayga is one of the most sought after luxury chauffeurs in LA so it's best to call in advance if you're looking to hire one with a private driver. We can have a Bentley Bentayga delivered right to your hotel or the driveway of your home. Give us a call today and experience a world of luxury in the rear seat of a Bentley limo. Hollywood is a popular destination to rent luxury cars due to the abundance of beautiful landscapes, celebrities, and exquisite restaurants found throughout.  Our mission is to provide you with top-level service and the best car rental service in LA. Rent a Bentley in LA with a driver and we will pick you up at (LAX) Los Angeles International Airport when you land. Don't just travel in a Limo the next time you're in LA hire a Bentley Bentayga. We service Beverly Hills, Malibu, Beverly Park, Redondo Beach, Manhattan Beach, Hidden Hills, Rolling Hills, Bel-Air Estates, Upper Laurel Canyon, Palos Verdes Estates, West Hollywood, or Brentwood Park.
The cost to hire a Bentley Bentayga with a driver starts from $250 per hour. This does not include and taxes, gratuity, or fuel surcharges. If you need an exact quote give us a call and we let you know the total cost for the amount of hours you need the car. We aim to provide the best Bentley chauffeur service in LA at the most affordable rate possible. We can answer any questions regarding pricing and availability.
The lowest amount of time you can hire a Bentley with a driver is 4 hours. Some weekends like holidays can boost up the minimum based on the higher demand. With our Bentley chauffeur services you can be driven around Los Angeles in style. If you don't need the car for the full 4 hours we can still provide the service but you will be charged the complete four hours.