Take a trip down to Beverly Hills with the top down in the latest Ferrari rentals. Rent a Ferrari 488 Spider in Los Angeles for a day, weekend or the entire week. This is one of the most exclusive exotic rental cars available. The 488 Spider is a great addition to an already spectacular lineup of prancing horses. Experience one of the most exciting and thrilling experience of driving a Ferrari down Beverly Hills. We promise after you rent a Ferrari in LA you wont want to rent another car sports car.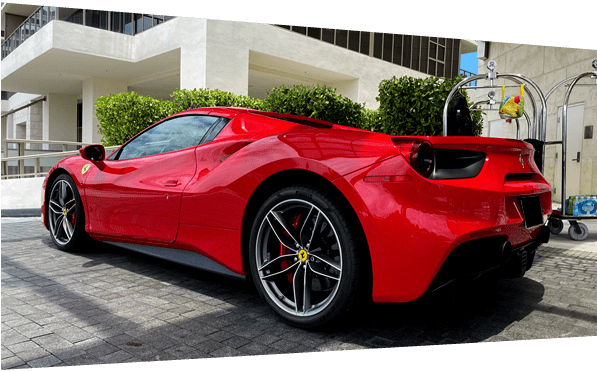 The 488 Spider has a stylish exterior that features the iconic brands design language. The best part about this Ferrari is that it's a hard top convertible. When the top is up it's hard to tell it's a convertible. When you go topless you are able to immerse yourself in the incredible LA weather. You can go topless with the push of a button in just 14 seconds even while driving at speeds below 20mph. This is very convienent when it rains as you don't have to bring the car to a complete stop to get the top back up . It's also the first time Ferrari introduced the key less entry system that allows you to keep the key in your pocket. Overall the styling is more aggresive with large vents on the rear quarter panels that allow air inside the engine compartment to cool it down. The hood recieved a redesign with two large vents that help with down pressure.
Rent a Ferrari 488 Spider in Beverly Hills and you'll have room for you plus one. It has an F1 inspired cockpit that is geared toward the driver. The cabin is spacious with much more room then some of the other Los Angeles exotic car rentals. The steering wheel should look familliar as it's design has remanined similar though the years. It is styled like a race car and houses all the controls you will need. On the wheel, you have the start button, the suspension adjustment button, the horn, the turning signal switches, windshield wiper switch and the manettino switch. The proprietary manettino switch allows you to select driving modes. You can switch from Wet, Sport, Race, Ct-Off and ESC-off. We highly recommend the SPORT setting which provides the optimal balance between performance and handling for everyday driving.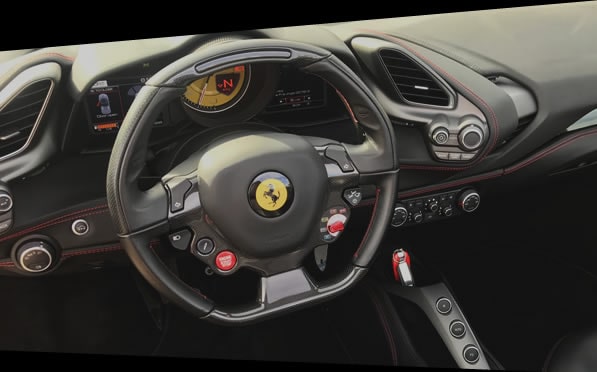 The performance behind this beautiful sports car is thanks to a 3.9-liter turbo V8 engine that packs a incredible amount of horsepower. 661 to be exact. A brand new turbo engine was created for the 488 models which is paired to a a 7-speed dual clutch transmission. It shifts so quick you can barely feel the transition between gears. It can prance from 0-60 in under 3 seconds. As soon as you step on the gas, you can feel the instant acceleration and symphony of sounds. The engineers at Ferrari have tweaked the turbos on the engine to completely eliminate turbo lag. When you step on the gas with the top down you can really hear those horses roaring. The top speed on this bad boy is 205 mph. With a quick turn of the manettino dial you can fine tune your driving experience. There are 3 modes to choose from including Sport, Wet, and Race. Each mode gives the user a different feel. Based on our customers experience we recommend using the sport mode for an all around great experience.
About LA Ferrari 488 Spider rentals
This is one of the most requested LA exotic car rental options we available. Drop the top on this beautiful Ferrari this weekend. Los Angeles Ferrari car rentals have never been easier and more accessible. Give us a call and we can help you find the car of your dreams. Choose from a variety of luxury cars as well as plenty of exotic car rentals in Beverly Hills. If you would like to have this Ferrari rental delivered to Los Angeles International Airport or anywhere in Beverly Hills delivery is free. For other parts of California, we can also provide delivery for an additional fee. The Ferrari of your dreams is now available for rent in LA with just one call. Get free delivery to anywhere in Beverly Hills, Malibu, Hidden Hills, Rolling Hills, Upper Laurel Canyon, Beverly Park, Redondo Beach, Bel-Air Estates, Manhattan Beach, Palos Verdes Estates, West Hollywood, Brentwood Park and even LAX Airport.
The cost to rent a Ferrari 488 Spider in Los Angeles can fluctuate between $1295-$2095 per day. During Prom season or during big events like Academy Awards prices can change. For weekly Ferrari rentals, we offer discounted rates. This car also requires a security deposit of $5,000 at the time of the rental. This is a refundable security deposit that is returned to you as soon as the car is returned without any damages. If you would like to rent this Ferrari outside of Beverly Hills we can also deliver anywhere in California. For up to date pricing and availability please give us a call. We are happy to answer any questions regarding exotic car rental prices. For rental cars delivered to LAX airport, there is no cost. Let us help you find your favorite car in LA. We always aim to provide you with the best Ferrari rentals in LA at the best price.
In order to rent a Ferrari in Los Angeles, you must be over 25 with a valid US or international drivers license and provide full coverage insurance that has sufficient coverage to cover the car. We require you to show your deceleration page containing your coverage limits in order to make sure your covered if the car is damaged.