Experience the all new Lamborghini Huracan EVO Spyder Rental service in Los Angeles. There are many reasons to travel to Los Angles including visiting the iconic Hollywood sign, Hollywood Boulevard, Rodeo Drive and the Walk of Fame to name a few. Start your visit to LA with a Lamborghini Rental and you'll experience Beverly Hills like never before. The Huracan EVO Spyder is the latest sports car in the prestigious Lamborghini brand. Rent a Lamborghini Huracan Spyder in LA today! Picture yourself driving down Beverly Hills in a high-performance Italian sports car.
The Huracan EVO Spyder is one of the best looking exotic car rentals in Los Angeles. It's aggressive design and wide body makes it the perfect Lambo to rent in LA. The design is developed using a variety of hexagonal patterns that are influenced by the structure of a carbon atom. The new Huracan EVO takes everything from the previous model and makes it even better. Compared to the previous model the new EVO has 7 times more down force and is 5 times more aerodynamic. It sports a seamless soft top convertible roof for a stylish appearance. The convertible top is constructed using an ultra-lightweight soft top that can be closed or opened in 17 seconds. The new Huracan EVO also comes with an all new set of beautifully designed 20″ wheels. We provide lots of exotic convertibles for rent in Beverly Hills but none of them has a presence like the Huracan Spyder.
The Huracan EVO continues it's aggressive design in the cabin. Like the previous mode the new EVO is a 2 seater. The inside is fully equipped with hand stitched premium leather and high quality finishes throughout the car. The interior remains fairly similar to the previous generation except for the all new touch screen display in the center. The large screen gives you control of all your media options as well as navigation controls. Under the screen you will find the start button as well as the button to raise and lower the roof. The top can be lowered or raised in a matter of seconds even while driving as long as your under 20 mph. Overall this is a sexy interior that feels more like a fighter jet than a high performance sports car. If your a taller person you might be a little cramped inside and might want to opt in for the Avenador instead. Otherwise it's an incredibly well designed interior that will make your LA adventures unforgettable.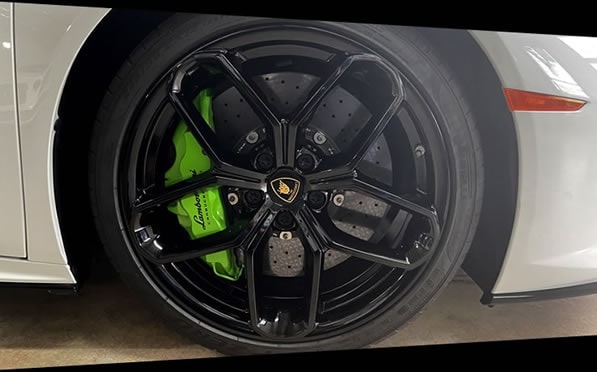 Just step on the gas and hear the 5.2-liter V10 engine roar. The naturally aspirated v10 kicks out 640 horsepower taking you from 0-60 in just 2.5 seconds. This is not only a beauty to look at but also performs like an Italian stallion should. It features the same engine that is found in the Lamborghini Huracan performante and has plenty of speed to get you wherever you want to go. It's one of our customer's favorites exotic cars to rent in Los Angeles so you'll need to call in advance to make sure it's available. We can accommodate same day rentals as well if the car is available but prefer to have some time in advance to make sure everything is ready for you. Due to its ANIMA (Adaptive Network Intelligence Management) technology, the Huracan Spyder is one of the easiest Lamborghini to drive. Experience the roar of the V10 today when you rent a Lamborghini Huracan in Los Angeles.
About LA Lamborghini Huracan EVO Spyder rentals
Why rent the Lamborghini Huracan Spyder in Los Angeles? Because life is short and feeling the emotion and pure thrills that you get driving a convertible Lamborghini, will be an experience that you'll never forget. Whether you have a weddings coming up or it's your significant others birthday, a Lambo rental in LA will make your experience that much more exciting. From it's exhilarating performance to its head turning looks the Huracan EVO is a great exotic car rental option for Los Angeles. It's also convertible so you can drop the top and immerse yourself in the sunny LA weather. Enjoy your next vacation to LA with a beautiful sports car that stands out of the crowd. We can also help you surprise your loved ones with a Lamborghini Rental for a birthday or wedding gift. We offer delivery and pickup service at Los Angeles International Airport or your hotel upon request. We also provide delivery to all of Los Angeles including Beverly Hills, Malibu, Beverly Park, Redondo Beach, Manhattan Beach, Hidden Hills, Rolling Hills, Bel-Air Estates, Upper Laurel Canyon, Palos Verdes Estates, West Hollywood, and Brentwood Park. Call us today and drive your dream car in Beverly Hills this weekend. 
The daily rate to rent the Lamborghini Huracan Spyder in LA starts from $1400 and can go up to $2,395 per day. We also require a security deposit that is roughly $10,000. It all depends on the insurance coverage you provide. Give us a call and we'll do our best to find you the dream car you've always wanted to drive. We always aim to provide you with the best prices for the most exclusive Lamborghini Huracan EVO rentals in Los Angeles. There are also weekly discounts if you're planning on taking the car for more than 4 days. Most of our rentals come with free delivery to Beverly Hills and LAX Airport but if your location is far from the nearest car rental center there will also be a delivery fee.
We do not provide hourly rentals in any of the exotic car rentals in LA. The least amount of time you can hire a Lamborghini Huracan in Los Angeles is one full day. If you just want to rent a Lambo for an hour or so then you can but we still require you to pay for the full day. This is a strict policy so there are no exceptions. After all why would you want to rent a Lamborghini for an hour. These are some of the funnest cars to drive and 24 hours is the minimum amount of time you will truly appreciate this marvel of engineering.