Out of all the possible luxury car rentals in LA the Bugatti Veyron is the best of the best. When you rent a Bugatti Veyron in Los Angeles you will experience an exclusive super car that not many people ever get to drive. The Veyron packs a V16 engine with incredible performance. It also has one of the most unique designs of any exotic car you can rent in Beverly Hills. Whether your looking for a prop for your music video or want to park the Bugatti outside your business for an event we can have a Bugatti delivered to you whenever you need it. It's also the most expensive car you can rent at $25,000 per day.
The Veyron sports a stunning design that was created by Ettore Bugatti. The rounded shape and wide body design looks incredible in person. A Bugatti Veyron combines luxury and performance in perfect balance. The body was carefully crafted to provide maximum aerodynamic capabilities. Any sports car with the Bugatti logo is top of the line. It also features a rear spoiler that can be lowered or raised with the touch of a button. When we arrive at your location in a luxurious Bugatti you will see how incredible the car looks in person. A Bugatti rental in LA will surly make for a trip you will never forget. Drive a Bugatti Veyron this weekend and enjoy this marvel of engineering the next time your in town.
Step inside the Bugatti Veyron and you will experience a no frills luxury interior with the best quality materials in the world. The steering wheel is covered with leather and has the EB logo so you can tell this is not your average exotic car rental. Every button, switch or leaver is created from metal, you won't find any cheap plastic inside this super car. The joystick style shifter and minimalist design keep things simple. The comfortable leather seats are inspired by racing seats and hug your body. The interior is very silent and has an air quality control system that cleans the air inside the cabin. The Veyron doesn't come with a premium sound system like some or exotic cars but who needs music when the sound of the V16 engine is like a symphony of sounds. Overall the Bugatti Veyron has a beautiful interior and provides you with a comfortable quiet cabin, until you step on the gas.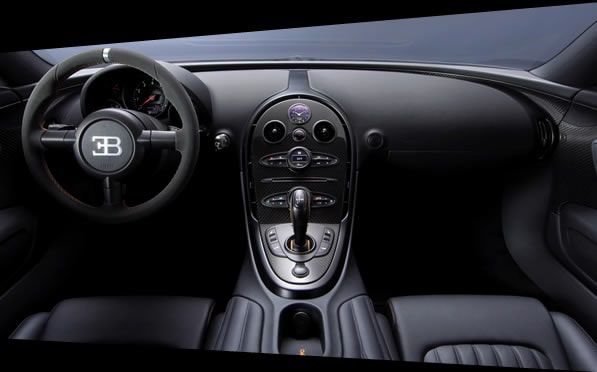 Where the Bugatti Veyron really takes over is in it's performance. The 16 cylinder was created just for this car and used 2 8 cylinder engines to come to fruition. The massive V16 motor packs 1,001 horsepower for more performance than you would ever need. It can reach speeds of over 230 mph and can go from 0-60 in just 2.5 seconds. The engine is truly a masterpiece of automotive technology. This is no surprise,  Bugatti has always been known for created the best supercars in the world. The  Stability system is electronically controlled  and keeps the Bugatti on the street when taking hard turns. With so much power under the hood the Veyron needs a capable braking system and it does. The large ceramic disc brakes stop the car in a heartbeat.
About LA Bugatti Veyron rentals
If your going all out on your exotic car rental the Veyron is as good as it gets. The Veyron is one of the most exotic cars in the world and is one of the only cars ever produced to come with a 16 cylinder engine. This rare breed of exotic car is so exclusive that you might have only seen one in pictures before. It's also the most expensive exotic car you can rent in Beverly Hills. If your ready to drive one of the rarest cars in the world give us a call. Driving a Bugatti is a once in a lifetime experience that will allow you to check another one of your bucket list. We can deliver this amazing super car to you anywhere in California including Redondo Beach, Hidden Hills, Rolling Hills, Bel-Air Estates, Upper Laurel Canyon, Palos Verdes Estates, Manhattan Beach, Beverly Hills, Malibu, Beverly Park, West Hollywood, Brentwood Park or even Los Angeles
International Airport (LAX).
The cost to drive the Bugatti Veyron in Los Angeles for a day is between $20,000 to $25,000. You are also required to provide a $100,000 deposit on the day of your rental. Your background will also be checked to make sure the Veyron is in good hands. If your ready to hire a Bugatti in Beverly Hills give us a call or message is and we can give you an exact quote for the day you would like to reserve the car. Our mission is to provide you with the best priced Bugatti rentals in Los Angeles. Delivery is free to Beverly Hills but other locations in California may require a delivery fee. The delivery fee is usually around $2 per mile plus any additional tolls or fees required to get the car to you.
You cant rent a Bugatti on an hourly basis. There is a one day minimum so you would need to book the car for a minimum of 24 hours.  amount of time you can rent a Bugatti Veyron in Miami is one day. Due to it's high demand and limited cars available there are several requirements you must meet in order to get behind the wheel of this super car. If you would just like to rent the car for a quick video or photo shoot we can arrange an early pickup but you will still be charged for the full 24 hours.