The BMW X7 is the flagship SUV that is now available for you to enjoy. You can rent a BMW X7 in Los Angeles for a day, weekend, or on a weekly basis. This is one of the top BMW rentals for groups of friends due to the large amount of interior space. The X7 can fit up to 7 passengers and does so in style. According to BMW it is considered an SAV not a SUV. SAV stands for Sport Activity Vehicle because even though it's large and in charge it's still a BMW performance driving machine. Experience the all new flagship SAV with a BMW X7 rental in Beverly Hills this weekend.
The BMW X7 is a new model that BMW released. Although the X7 is a popular sedan the X7 is new to the scene. The exterior is very appealing with a sleek design and thin horizontal led head lamps. It's the largest SUV ever to be created by BMW. The style is similar to an X5 but scaled up a notch. Due to it's massive body design it makes a good BMW rental for traveling with friends and family. For such a large vehicle it still features a sporty design. In order to truly appreciate this elegant SUV you must see it in person. Drive the largest SUV by one of the most prestigious sports car brands. Experience the all new BMW X7 in Los Angeles today.
Inside the X7 you will find a luxurious cabin that is similar to are other BMW rentals in Los Angeles. There's one big difference with the X7 and that is that the X7 has 7 seats. It features a Digital instrument cluster Display with BMW's Live Cockpit Professional that displays navigation instructions right in front of the driver. In the center there is another 12.3″ Display which displays navigation maps and also allows you to control the premium sound system. The X7 also includes Car Play and Android Auto so you can bring along all your favorite apps and songs for the ride. It has an executive touch with a premium leather interior. In order to give you the smoothest ride possible the X7 also comes with a two-axle air suspension. You also have the option to adjust the ride height for loading your luggage into the trunk or getting in and out of the SUV. Explore a refined interior and rent a BMW today in Beverly Hills.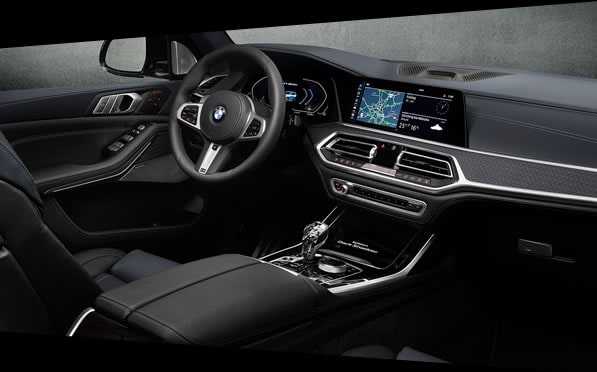 This massive SUV needs a powerful engine. The heart of the X7 is a 4.4 liter inline V-6 BMW M Twin Power Turbo engine that can go from 0-60 in 5.8 seconds. This might not be so impressive but when you consider the weight and size of this luxury SUV it's not bad. The Twin turbo V6 packs 335 horse power. The BMW X7 also comes with xDrive, BMW's intelligent all-wheel drive system which controls the power to each individual wheel for optimum stability and control. You can switch from several driving modes to including Sport, Comfort,Eco Pro, Adaptive and Auto H. Each mode gives you a different driving experience changing up the suspension and acceleration for maximum enjoyment. Go shopping on Rodeo drive in a powerful BMW X7.

The BMW X7 is the biggest BMW SUV you can rent in LA. It's a beautiful SUV to rent for special occasions such as a wedding, anniversary, birthday, prom, or a corporate event. Bring all your friends along for a ride in luxury with this cool new BMW X7 rental. With enough room for 7 you wont need to leave anyone behind. Due to it's massive size it is not as easy to drive but the 360 camera system helps to make it easier to park. We can have your favorite BMW rentals delivered right to your door in Rolling Hills, Palos Verdes Estates, Beverly Hills, Malibu, Beverly Park, Redondo Beach, Manhattan Beach, Hidden Hills, West Hollywood, Bel-Air Estates, Upper Laurel Canyon, Brentwood Park, and even Los Angeles International Airport (LAX).
The price for a daily rental of a BMW X7 in Los Angeles can range from $595-$795 per day. You are also required to leave a security deposit of $5,000 on the day you receive the vehicle. We provide free delivery to LAX Airport and Beverly Hills but if you need this SUV delivered to other parts of California there may be a delivery fee. The fee is usually around $2 per mile plus tools. If you have any other questions or would like exact pricing for the days you require give us a call or chat with us. We aim to provide you with the best prices for the best BMW X7 rentals in Los Angeles.
We do not provide hourly rentals in the X7. If you would like to drive the X7 the least amount of time you can rent it is 24 hours. If you just need the car for a couple hours you can always return the car earlier but will still be responsible to pay for the full day. However you hire a BMW X7 with a chauffeur with a 4 hour minimum. We will have a professional driver pick you up and take you where you want to go in Los Angeles.