The Mercedes Sprinter chauffeur in Houston is the largest limo offer we have available. It can seat anywhere between 9-12 passengers depending on the model that is available. If your planning a birthday, bachelor party, bachelorette party, prom, or celebrating a special occasion you reserve a Sprinter with a driver in Houston and travel in style. There are not many luxury chauffeur options that can seat more than 5 passengers. The Sprinter has a luxurious interior and is one of the best SUV's to hire with a driver.
The Sprinter has a minimalist design with a beautiful Mercedes grill up front. Although it is a bus the design is incredibly nice compared to any other buses in it's class. Mercedes is known for creating high performance luxury cars and SUV's and the sprinter is no exception. The Sprinter has led lights on the front and rear and the tall ceilings give it a bold presence when you see one in person. The Sprinter is an excellent choice for big groups and provides the most luxurious bus ride you will ever experience. The sprinter is the perfect ride to get driven around Houston with your friends and family.
When you hire a Mercedes Sprinter in Houston you are traveling in the best bus around. This luxury sprinter provides a luxurious interior for you and your company to enjoy. There are multiple sprinter models available that come in different configurations. Some have a long row that wraps around similar to what is found in a stretch limos. Another popular model is the one with traditional rows similar to what you might find in a greyhound bus but the seats are covered in leather. The last and hardest to find is the model with 4 captain chairs that are reclinable Any of the options that are available will provide you with a comfortable and luxurious interior for you to enjoy.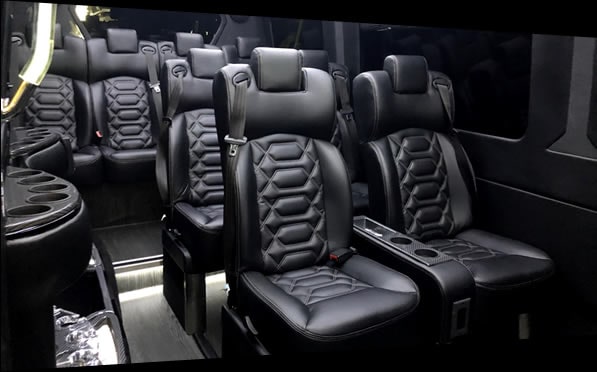 The ride performance in the Sprinter is exceptional. It has a premium suspension that cushions the Sprinter from any bumps on the road. It is not a Rolls Royce but still has the smoothest ride of any luxury bus. After all it is a Mercedes and they take special care to produce a quality vehicle. Overall the Mercedes Sprinter is a great luxury limo to hire with a chauffeur and will make your day very special. The powerful Mercedes motor will ensure you get to your destination with no problems and the comfortable ride will provide a fun and relaxing time around Houston. Why settle for just any regular limo when you can ride in this luxurious Mercedes bus.
MORE LUXURY CHAUFFEUR OPTIONS
About Houston Mercedes Sprinter chauffeur service
When it comes to luxury chauffeur options in Houston the Sprinter is a wonderful option. It has more room than any of the other luxury chauffeurs in Houston with enough seating for up to 14 passengers. Depending on the model you choose it may even accommodate bigger parties. The Sprinter interior is large and gives you plenty of room to ride comfortably around Houston. The air suspension ride makes it glide over bumps without disturbing the passengers. What could be better than having a luxury Sprinter waiting for you outside of your home or hotel in Houston. A professional driver will open the door for you and be ready to take you to your next big event. It's also a popular luxury rental for weddings to transport brides maids and groomsman on the way to the party.
The price cost to reserve a Mercedes Benz sprinter with a driver in Houston starts from $149 per hour. This hourly rate is not including any service fees, gas surcharges, tolls or taxes. If you are ready to reserve a Sprinter for your even in Houston and would like an exact quote give us a call and we can give you a total cost along with availability. Our goal is to put you in the best Mercedes Sprinter rentals in Houston at the lowest price possible. We may also ask for a deposit if it is a busy weekend and there are not many available to ensure the rental.
The least amount of time you can reserve a Sprinter with a driver in Houston is 4 hours. This applies to all of the Houston luxury chauffeur options. Some weekends and holidays may have a minimum of 5-7 hours dependent on availability.