The Bentley Bentayga is now available with a driver in Houston. A spacious and luxurious SUV with a beautiful bespoke interior that is a elegant way to travel. The  Bentayga is a great luxury chauffeur option in Houston. There is room for up to 4 total including the front passengers seat. Hire The Bentayga can fit up to 3 passengers comfortably and makes a great first impression. You can rent a Bentley truck for a wedding, prom, birthday, or just to make the weekend more memorable.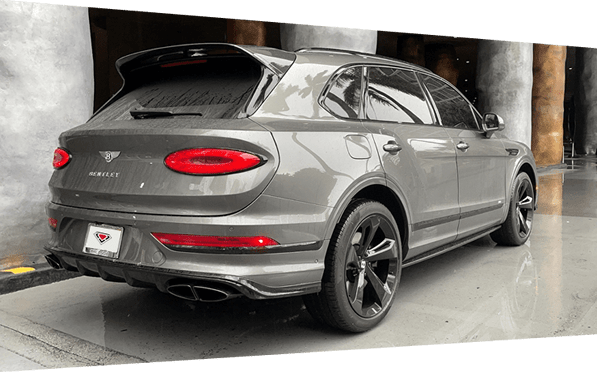 The Bentley Bentayga is one of the most elegant luxury chauffeur options in Houston allowing you to get to your destination in style. The iconic Bentley front bumper has the same quad headlight setup Bentley's are known for. The Bentayga also has the Mesh grill that is found in a lot of the Bentley models. The sleek curves and large alloy wheels with low profile tires give the car a sporty feel. The Bentayga has everything you could ask for in a luxury SUV. Reserve a Bentley Bentayga with a driver in Houston this weekend and see for yourself why it is so popular
The Bentayga has a luxury interior with all of the tech features integrated seamlessly into the interior. You will find soft touch leather covering the seats and interior panels with perfect stitching. Some of the things you will enjoy when you rent a Bentayga in Houston with a driver that you won't get in a traditional limo is the premium sound system. Although the is a spacious luxury SUV that will provide you with a luxury chauffeur experience like no other. There is enough room for 3 people in the rear and one additional passenger can ride up front. Experience a luxury ride like never before when you reserve the Bentayga.
When it comes to ride performance the Bentley Bentayga delivers. It has one of the smoothest rides possible with advanced materials used on the cars panels. It has a massive performance under the hood but you can barely hear it. The performance oriented adaptive air suspension allows the Bentayga to travel over bumpy roads while minimizing any vibration or sound. The luxury SUV can also be lowered for easier entry to the Bentayga with the air suspension. The active anti-roll systems even keeps the ride smooth on turns. Houston is the perfect place to discover the Bentley Bentayga.
MORE LUXURY CHAUFFEUR OPTIONS
About Bentley Bentayga Houston chauffeur service
Get driven around Houston in a high class luxury SUV like the Bentayga is one of the most luxurious ways you get around Houston. A professional driver will arrive at your location and take you where ever you would like to travel to.Whether your visiting Space Center Houston, The Museum of Natural science, Houston Zoo, or watching a ball game at Minute Maid Park you will have a great time when you arrive in this stylish luxury SUV. When you step inside the Bentayga you will find a luxury interior with a premium sound system that will surly impress. Celebrate your next special occasion like a wedding, birthday, or prom in a stylish luxury Bentley SUV. We can have a driver pick you up in Bentley Bentayga at the entrance of your home or hotel.
The cost to reserve a Bentley Bentayga limo with a driver in Houston starts from $250 per hour. There are special prices available for multiple day chauffeur's in Houston. Our mission is to provide you with the best Bentley chauffeur service in Houston at a price you can afford. If you are ready to rent a Bentayga with a driver in Houston. We are always happy to answer any questions you might have regarding pricing and availability.
If you would like to hire a limo in Houston we have a 4 hour reservation minimum. The 4 hour minimum applies to any luxury chauffeur option in Houston. If you only need a one way transport from the Airport you will be required to pay for the 4 hour minimum in order to reserve the vehicle.