Get ready to experience one of the most popular Lamborghini rentals in Houston. You can now Rent a Lamborghini Huracan in Houston for a day, weekend, or for the whole week. The all new Lamborghini Huracan EVO Spyder is the perfect entry level model to drive if it's your first time driving an exotic car. With a powerful tuned V10 engine and incredible style this is one of the best exotic car rental options in Houston. It provides you with the perfect blend of performance and design.
Show up to your next event in a stylish Lamborghini Huracan. The EVO version looks very similar to the standard Huracan but adds a touch of refinement to make it more alluring. The design of the Huracan like many of the other Houston Lamborghini rentals is based on the hexagonal shape of the carbon atom. Every where you go in the Huracan people want to wave and take pictures. It's a stunning design that makes it a popular choice for rentals in Houston. The Spyder model also allows you to remove the top with the push of a button. The lightweight cloth top opens and closes in just 17 seconds. See this beauty for yourself when you rent a Huracan Spyder in Houston this weekend.
The Huracan EVO has a beautiful Italian styled interior with room for 2. The interior in the EVO has been upgraded from the standard Huracan with a new touch screen display in the center that is easy to navigate and switch through the cars settings. When you step inside, you will see the same familiar hexagonal elements all throughout the interior. The leather and Alcantara interior or full leather is well built with high quality Italian leather.If you are taller than 6 feet you might feel a little cramped inside but that is just one of the downsides of the interior. Overall it's a fun and beautiful interior that will make your drive around Houston unforgettable.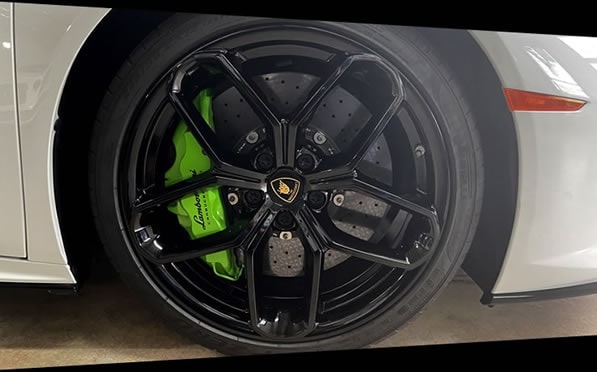 The power of the Huracan EVO is thanks to a highly tuned 5.2-liter V10  that produces an impressive 640 horsepower. The EVO uses the same V10 engine that was used in the Huracan performante. This is a fast exotic car that is capable of going from 0-60 in just 2.5 seconds. It is  almost as quick as the flagship model the Aventador. It also comes equipped with four wheel drive suspension for incredible grip on the road even while taking sharp corners. The engine is then paired with a  dual clutch transmission to provide instant shifts through any gear range.
ABOUT HOUSTON LAMBORGHINI HURACAN EVO SPYDER RENTALS
The real question you should be asking is why not rent a Huracan in Houston. The EVO Spyder is one of the best exotic cars to rent. It is easy to drive, affordable, and sounds incredible when you step on the gas. Experience Houston in the drivers seat of the new Lamborghini Huracan EVO Spyder. It's the perfect exotic car rental option for beginners due to it's ease of use and level of performance it allows for. Show up to your favorite restaurants and events in Houston in this beautiful and stylish Lamborghini. You can rent a Huracan in Houston and celebrate an anniversary, birthday, wedding, corporate event in style.
So your probably wondering how much does it cost to rent a Lamborghini Huracan Spyder? The Huracan is the cheapest Lamborghni rental in Houston. The price for a day in Lamborghini Huracan for a day ranges between $1,295 and $2,000 per day. We also require you to leave a deposit between $5,000-$10,000 on your credit card during your rental. If you would like an exact quote give us a call and we can provide you with a quote for the amount of days you would like to rent the Huracan in Houston. We strive to provide the best Lamborghini rentals in Houston at the most affordable price possible.
The least amount of time you can reserve a Lamborghini in Houston is one day. That gives you exclusive access for 24 hours in this modern sports car. We do not provide any hourly Lambo rentals in Houston. You can always return earlier but you will still be charged for the full days rental.