The Cadillac Escalade is the extended version of the beautiful American luxury SUV. Rent an Escalade ESV in Houston and experience one of the largest and most elegant options. This is not only the largest Cadillac Rental in Houston it's also the largest luxury SUV period. It has a beautiful elegant design with horizontal led headlights and a massive Cadillac grill. Experience the new Cadillac Escalade ESV in Houston this weekend and see why this is one of the most popular luxury SUV rentals ever.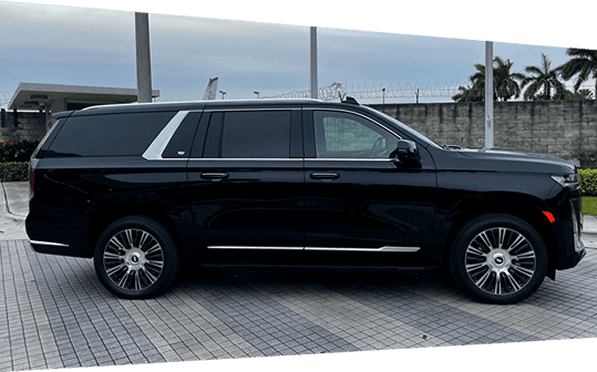 The Escalade ESV is large and in charge. The ESV extended version is massive and makes a statement everywhere you go. The Extended Escalade is 15.9 inches longer than a standard model. The extra space makes the ESV look massive. ESV is short for Escalade Stretch Vehicle and with just one glance you can tell this is no ordinary Escalade. Besides the extended space it also has the same features of the standard Escalade like the beautiful Cadillac Grill and all new led horizontal headlights. It also comes with beautifully styled 22 inch wheels that add to the cars beautiful exterior.
The Escalade ESV has the same beautiful interior found in the standard model with one exception. It has an additional row of seats and can fit up to 7 people comfortably. The high ceilings and extra space inside make it a popular choice among athletes and taller customers. It also has the same 38 inches of OLED pixels adorning the front of the car making it one of the most technologically advanced Escalade's to date. It also comes with a premium audio system that can be paired to your phone using Carplay or Android Auto. This allows you to use your favorite Navigation apps to get around Houston without problems.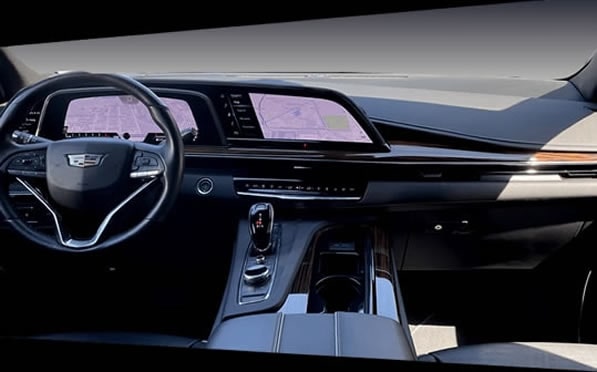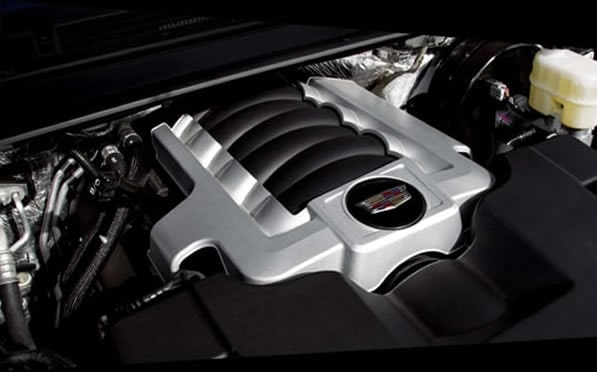 Powering this massive luxury SUV is an American made 6.2L V-8 VVT DI V8 motor that comes with Dynamic Fuel Management which optimizes your gas usage based on your driving style. It has a total of 420 horsepower and has enough power to get you around Houston without issue. The motor is paired with a 10-speed automatic transmission for very smooth shifting at any gear range. One of the best performance features is the magnetic ride control suspension which provides you and your passengers an incredibly smooth ride even over bumpy roads.
ABOUT HOUSTON CADILLAC ESCALADE ESV RENTALS
The Escalade ESV is one of the largest and most impressive SUV rentals available in Houston. If you want to rent a luxury car in Houston that will fit the whole family then the ESV is the best option. It's elegant design and large interior space make it a great option for family trips around Houston. The Cadillac Escalade ESV is stretched and has all of the same features as the standard model but with additional room in the rear. It also has a special mode that allows the driver to communicate using the cars audio system with rear passengers. We are able to deliver your favorite Escalade ESV to the driveway of your home, hotel, or venue.
The cost to rent a Cadillac Escalade ESV in Houston starts from just $495 per day. We also require you to leave a $2,500 security deposit  on the day of your rental for any minor damages if they should occur. If you are in town for a longer period you can take advantage of our long-term luxury SUV rental services at a significant discount. Our goal is to provide you with the best Cadillac rentals in Houston at the lowest price possible.
If you are looking to rent an Escalade ESV in Houston for you to drive then there is a 24 hour minimum. You are always allowed to return the car earlier but will still be charged for the full day. We also provide luxury chauffeur service in the Escalade with a 4 hour minimum. If you hire an Escalade with a driver in Houston you won't have to worry about parking or driving. You can sit back and enjoy the ride as a professional driver takes you around Houston in the lap of luxury.