Rent a Maserati Ghibli in Orlando and drive this luxurious sedan around with your friends and family. Maserati is known for producing some of the most beautiful Italian sports cars, luxury sedans, and also SUV's. The four door luxury sports sedan is a popular luxury car rental option in Orlando with plenty of space to ride around all weekend in comfort. The Ghibli is smooth and easy to drive with an incredible sound when you step on the gas. The large Maserati grill makes a bold statement and is the first thing people will notice when you arrive. Experience a Maserati Ghibli rental in Orlando this weekend.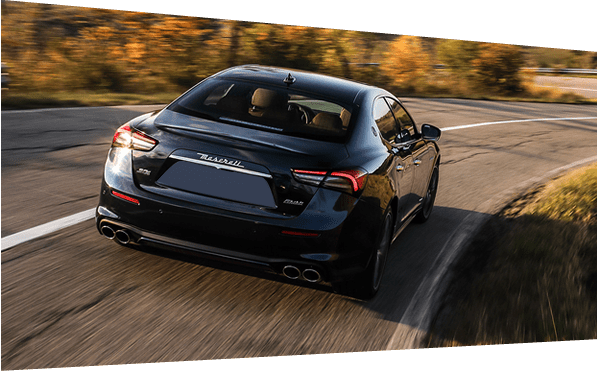 The exterior design of the Ghibli is undeniably Italian made. The large grill with the iconic trident logo in the front add a bold look to the design of the Ghibli. The LED headlights also add a modern touch the design along with the LED rear tail lights. The frame less doors give it the look of a sports car even though it is a sedan. The tasteful design makes it a top notch Maserati rental for visiting the many theme parks ans attractions in Orlando in style. The Ghibli also comes with the familiar three vents on each side of the fender for an extra touch of class. Drive one of the sexiest sedans in Orlando this weekend when you rent a Maserati Ghibli.
The Ghibli comes with seating for up to 5 people and the interior is luxurious and well built. There is something about the interior that feels comfortable and high quality. It has a Ferrari feel and provides a comfortable ride for traveling around Orlando. The 12-way adjustable front seats allow you to position the leather seats to your preferred setting. In the center of the dash there is a 8.4-inch high quality touch screen display to view navigation instructions and play your favorite songs. The 900-watt Harman Kardon Premium Audio system comes with 10-speakers throught the cabin for an incredible listening experience.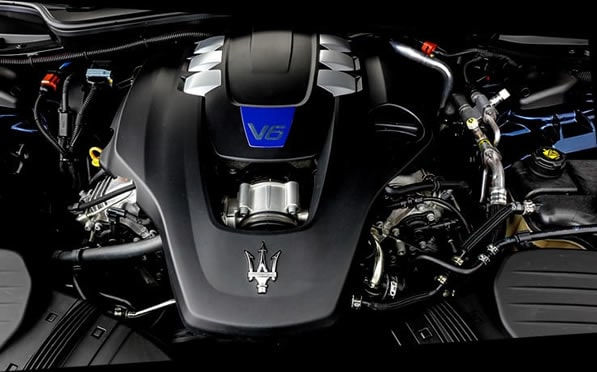 The Maserati Ghibli is a rear wheel drive sedan powered by a 3 liter, twin-turbocharged V6 built by Ferrari at their factory in Maranello, Italy. This is going to be the last Ghibli as Maserati will start producing it's own engines after 2022. The powerful V6 puts out 345 horsepower and has a 0-60 time of just 5.5 seconds.When you step on the gas the Ghibli makes incredible sounds. The motor is paired with an 8 speed automatic transmission to provide you with a smooth transmission between gears. You can select from multiple drive modes including Normal, Sport, Off-Road and I.C.E. (Increased Control & Efficiency). Each mode adjust the throttle mapping and suspension to adjust based on your driving preference.
About Orlando Maserati Ghibli rentals
Maserati made it's name in Gran Prix racing and has a history of making luxurious and refined cars and the Ghibli is no exception. If you want to rent a luxury sedan with more character and more of a bespoke feel than a Mercedes the Ghibli is a great option. It's smooth luxurious design and Italian DNA make it a popular luxury car rental to choose if your visiting Orlando with your friends. It also provides you with the styling of a coupe with the comfort and space of a sedan.The Ghibli is the perfect car to drive on your wedding day or to take your significant other to dinner for your anniversary.
The cost to for a Maserati Ghibli rental in Orlando ranges anywhere from $595 to $895 per day. There is also a $1,500 security deposit that must be paid prior to pickup or getting the car delivered.If you are ready to experience Maserati rentals in Orlando give us a call and we can provide you with an exact quote for the days you need the car. We strive to provide you with the best Maserati rentals in Orlando at an affordable price.
The least amount of time you can reserve a Maserati Ghibli in Orlando is 24 hours. During busy weekends or holidays there may be a 2 or 3 day minimum instead.