The Corvette C8 is the latest American classic to be available for rent in Orlando. You can rent a Corvette in Orlando for just a day or drive around all weekend in this modern sports car. It's one of the most fun exotic cars to drive combining a beautiful exterior design and incredible performance. It's also one of the most affordable exotic car rentals in Orlando and will provide you with a fun driving experience. The hard top convertible allows you to remove the top and enjoy the amazing Orlando weather while being able to raise the top and get the sleek lines of a coupe.
The new Stingray is one of the nicest most exotic looking Corvette's ever produced. It's been around since 1953 and continues to be one of the most popular Corvette rentals. The mid engine design has dynamically changed the way the new Corvette has been designed. It now has a similar shape to other exotic cars from brands like Ferrari and Lamborghini. It still retains it's signature Corvette style but adds a modern touch and looks more stylish than ever. Drive one of the coolest sports cars in Orlando and see the new Corvette C8 in person. Overall your going to love the new design of the Stingray.
The exterior of the Corvette is not the only thing that was completely changed.The new C8 convertible has a modern driver focused interior with the latest tech in American automotive engineering. I now has a beautiful digital speedometer and another screen in the center. The media center system is easy to navigate and includes Car play and Android Auto compatibility. The Bose sound system also sounds incredible so you can listen to your favorite songs as you drive around Orlando in style. For the climate controls there are physical buttons that are easy to adjust and control. It features premium leather covering the comfortable leather seats and also has comfort features like parking sensors and a rear view camera.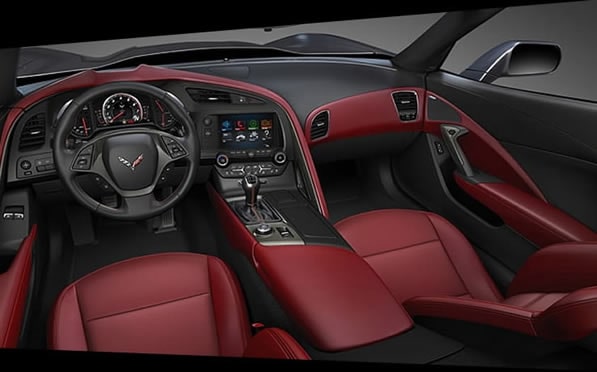 When it comes to performance the C8 is ahead of the curve.The mid-engine design is a first for Corvette and it has a 6.2-liter LT2 V-8 that was built from scratch. The powerful V8 produces 495-hp and can go from 0-60 in just 2.9 seconds. The motor is paired with an 8-speed dual clutch transmission for precise shifting. The Corvette also features a magnetic selective ride control suspension which allows you to switch between different settings.The powerful engine and dual clutch transmission combined make it an easy to drive super car and will provide you with a powerful sports car to rent in Orlando.
About Orlando Corvette C8 Convertible rentals
The new convertible Corvette is one of the coolest and most affordable exotic cars you can rent in Orlando. It has been in production since 1953 and continues to be one of the most popular sports cars in America. The iconic American muscle car is popular around the world and you can now get in the drivers seat of the C8 while in Orlando. If your looking to rent an exotic car in Orlando the Corvette stingray is a great option that provides a powerful mid-engine sports car with a modern design. Corvettes are fun and you will have a great time in Orlando anytime you are behind the wheel of a beautiful C8 convertible. The C8 delivers supercar performance for half of the price of one of the other foreign exotic cars we provide.
The price to rent a Corvette in Orlando starts from just $695 per day. It is one of the most affordable exotic car rental options and provides incredible value for what your getting in performance and style. If your going to be in Orlando for a longer period we also have long term Corvette rentals at a discounted price. Our goal is to provide you with the best Corvette rentals in Orlando at an affordable price. If you are ready to rent a Corvette in Orlando give us a call and we can give you an exact quote for the amount of days you need the car.
The least amount of time you can rent a C8 convertible in Orlando is 24 hours. If you only need the Corvette for a couple of hour you can always schedule an early return but will still be charged the full 24 hour price. If you have any questions regarding our Orlando Corvette rentals call us or send us a message.