The Escalade  is one of the most popular Cadillac rentals in Orlando. Experience this iconic American luxury SUV the next time your visiting the magical city. The ESV model or Escalade stretch vehicle is the larger version giving you more room for your friends and family to comfortably ride around Orlando in style. The new Escalade ESV can seat up to 7 people comfortably and provides a luxury interior for you to enjoy Orlando in style. Rent an Escalade in Orlando this weekend for any occasion and you will surly enjoy your time in Orlando like never before.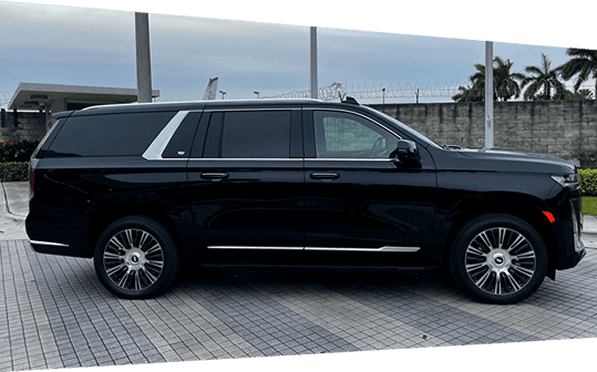 The ESV version of the Escalade is the longest version and it comes with a bold new design. This large luxury American SUV is 15.9 inches longer than the standard model for a bolder presence and looks massive from the exterior. The extended model remains identical to the standard Escalade with its new horizontal LED headlights and refined new rear light bars on each side. The large Cadillac grill makes a bold statement and adds to the stylish modern design. It also comes with 22 inch alloy wheels for an added touch of luxury and refinement.
Step inside the Cadillac Escalade and experience the most luxurious interior of any Escalade ESV ever produced. When you rent an Escalade ESV in Orlando you will experience the latest tech in American automotive engineering. The new Escalade was not only redesigned outside but also features incredible new upgrades in the interior. Some of the cool new included features are 38 inches of OLED pixels. The multiple screens provide you with all the info and media options you could ask for. In features Android Auto and Carplay so you can connect your phone and listen to your favorite songs threw the premium sound system. With leather all throughout the car and a quality feel this is one of the best Escalade rental options in Orlando.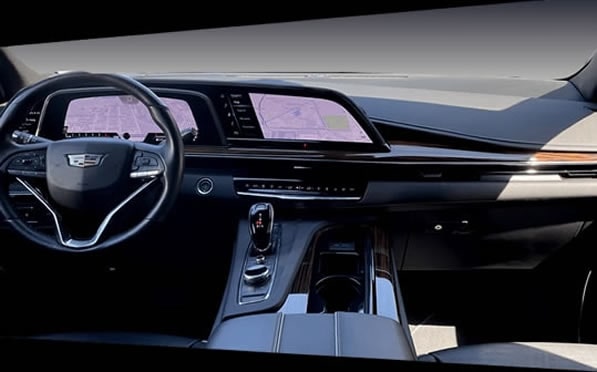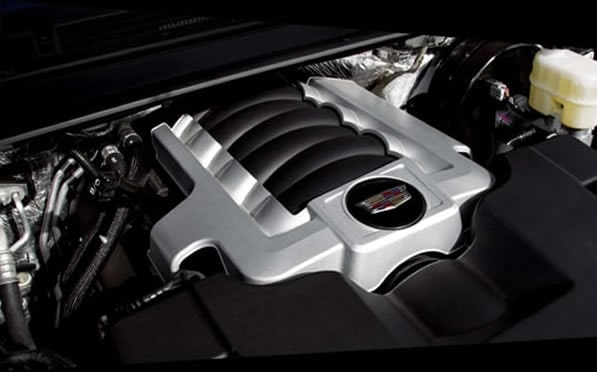 Under the hood of the Escalade sits a massive 6.2L V8 engine with Dynamic Fuel Management. With only 420 horse power it might not be the most powerful luxury SUV you can rent in Orlando but it does have plenty of torque. The Cadillac ESV also provides a smooth luxury ride thanks to the magnetic ride control suspension. It is a smooth ride and allows you to visit your favorite restaurants and theme parks in Orlando in comfort. The motor is paired with a 10-speed automatic transmission for quick and smooth shifts.
About Orlando Cadillac Escalade ESV rentals
Orlando is a fun place to visit with your friends and family and if you want to rent a spacious luxury SUV the Escalade ESV is a great choice. The iconic American luxury SUV has been a popular luxury car rental in Orlando since it's release. With elegant styling and luxurious and technologically advanced cabin and more space than any other SUV you will surly have a great time riding in the Escalade while in Orlando. Whether you want to take the family out for a spin or are celebrating a wedding and want a nice car to compliment your special day we can have your favorite Escalade delivered right to your driveway in Orlando.
The price to rent a Cadillac Escalade in Orlando starts from just $495 per day. You are also required to leave a $2,500 security deposit before getting the car delivered. You can also get a discount by taking advantage of our long term Cadillac Escalade rentals in Orlando. Give us a call today and we can give you an exact quote for the days you would like to rent the car. Our goal is to provide you with the best Escalade rentals in Orlando at an affordable price.
The least amount of time you can rent a Cadillac Escalade in Orlando is 24 hours. We do not provide hourly options for any of the Cadillac rentals we provide. If you would like to use the car for just a couple of hours you can always return the car earlier but will still be charged for the full day. You can however hire a Cadillac Escalade with a driver and there is a 6 hour minimum for that service.