The Bugatti Veyron is the most exotic car you can rent in Orlando. It has a unique style that no other car can compare. If you want to rent a Bugatti Veyron in Orlando we can have this incredible super car delivered right to your driveway. The Bugatti Veyron is a one of a kind exclusive supercar that can be rented for your next product launch or your next big event. Due to it's high price tag it is also the most expensive exotic car you can rent in Orlando at $25,000 per day.
The EB logo in the rear of the Veyron stands for Ettore Bugatti who was the creator of the brand that had a vision to create one of the best cars in the world. Due to his drive and motivation we now have one of the highest quality sports cars in the world. The Bugatti Veyron has a unique rounded shape with it's wide body design.The Veyron was the first Bugatti to be released after years of waiting. When it was released it broke records on many levels. The perfectly balanced shape is familiar to all car enthusiast around the world. If you would like to rent an exotic car in Orlando like no other then a Bugatti rental is as good as it gets.
The interior of the Veyron is simple yet luxurious. While most super cars are limited in space the Veyron has a large amount of room inside. It can only seat 2 passengers but whoever is lucky enough to ride in a Bugatti will surly enjoy the ride. There is no fancy stereo or apple car play connectivity inside. The Bugatti Veyron is all about performance. Like the exterior the interior is a masterpiece of automotive engineering. With a Rolls Royce like attention to detail everything inside is built to perfection. The seats and interior panels are covered in rich Napa leather and all of the trims and controls are brushed metal or carbon fiber.  Overall you wont find one imperfection in the Bugatti Veyron and riding in a Bugatti while in Orlando is a once in a lifetime experience.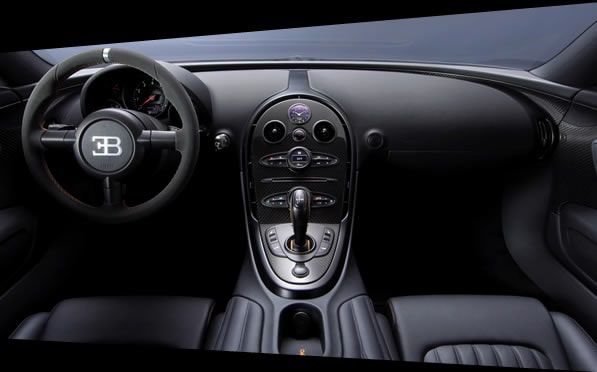 The Bugatti Veyron broke records when it was released. It has incredible performance thanks to it's 16-cylinder engine. The motor was created using two inline V8 engines and creates an incredible 1,001 horsepower. The ground breaking performance set the bar for every super car that was built after it. The Veyron can reach speeds of up to 230 miles per hour with a 0 to 60 time of 2.5 seconds. It comes with an electronically controlled stability system in order to tame the beast that lies inside. To help slow down those 1001 horses the Veyron also comes with carbon ceramic disc brakes. Get ready for the ride of your life when rent a Bugatti in Orlando.
About Orlando Bugatti Veyron rentals
The Bugatti is the top of the line when it comes to exotic car rentals in Orlando. It takes 5 weeks to build each one and they come with a hefty price tag. As you would expect this is not your average super car. The Veyron combines performance and style like no other car in the world. One thing to consider when you rent a Bugatti is that you will be the center of attention if you plan on driving around Orlando. It has a unique design that everyone loves and will want to take pictures of the car wherever you go. If you renting a Bugatti in Orlando for a photo shoot for your product or video production you are sure to project to your target audience that nothing is out of reach. We can have a Bugatti delivered right to your studio or venue with just one call.
There is no doubt this is one of the most expensive cars in the world and if you want to rent a Bugatti you can expect to pay a premium. The cost to rent a Bugatti in Orlando starts from $25,000 per day. The 3 million dollar car also requires a $100,000 deposit and we require an extensive background check as well. If you would like to know more about renting a Bugatti in Orlando free to reach out to us and we can give you an exact quote.
This is by far the most exclusive exotic car you can rent in Orlando. Due to it's high demand we require a minimum of 24 hours if you would like to reserve a Bugatti in Orlando.