The most beautiful McLaren rental available in NYC is the 650S Spider. This new Mclaren is one of the coolest and most technologically advanced supercars in the world. The mid-engine convertible replaces the previous flagship model the MP4-12C.  Rent a Mclaren 650s in NYC this weekend and you'll instantly see the difference in speed and performance. McLaren rentals are fun to drive and have a cool looking exterior that is sure to impress. It also comes with the cool doors that open upward.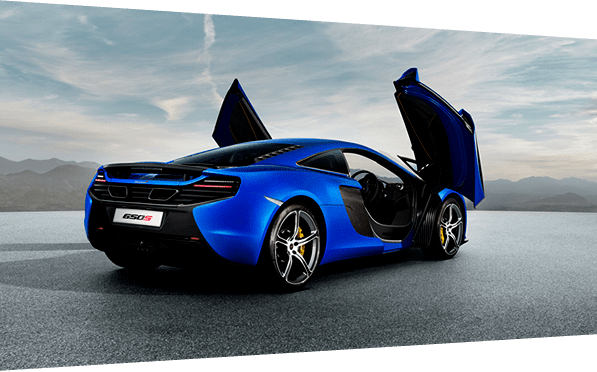 There is no denying the 650s is a sexy beast. The futuristic styling and aero dynamics are both visually appealing and are functional as well. The exterior styling is more aggressive than the predecessor the MP4-12C. The front bumper design provides the 650s with more down force when going fast. The signature McLaren logo LED lights tie in the design while giving you bright illumination for those night time cruises through Manhattan. It still features 75% of the parts from the previous model but looks much better. One of the coolest things of renting a McLaren in New York is the fact that the doors open upward. This car has many features and designs that where brought in from the hypercar P1.
Inside the 650s Spider, you can find several new race-bred technologies that were developed from the Mclaren P1. The gearbox software was updated to providing quicker shifting when required. There are three different drive modes Normal, Sport and Track. Normal mode provides for a less aggressive car that can be driven every day as opposed to Track which is much more aggressive. We recommend Sports mode which is a good combination of the two settings. There are two selectors in the active dynamics setup the left is for suspension and handling and the right is for gearbox and power terrain settings. The vertical touchscreen display is where you can control all the media and navigation settings.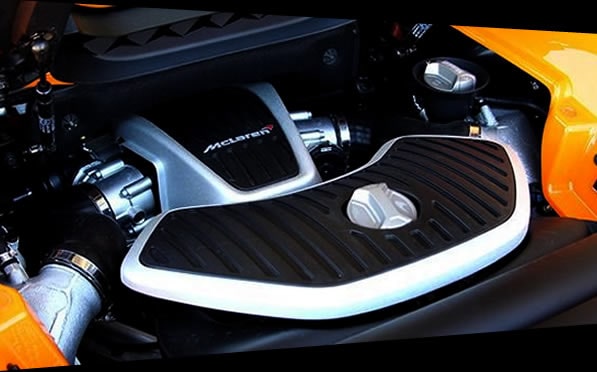 The McLaren 650s features a finely tuned 3.8-liter twin-turbo V-8 engine with 650hp. It's lightning fast and can take you from 0-60 in just 2.9 seconds. When you step on the gas the 650s makes a symphony of sounds that come from the motor and exhaust system. Although Mclaren says that it is not a direct replacement it does use the same carbon fiber tub, the same twin-turbo V8 engine as well as the same 7-speed dual clutch transmission. This is where the similarities end because the 650s is faster and has a much more sporty look. It also features a Proactive Chassis Control (PCC) system that can be changed from Sport to Track. Track mode removes the traction control and makes the car more dangerous to drive so we recommend leaving it on Sport.
About NYC McLaren 650s Spider rentals
The McLaren 650s is an older super car that still looks slick and drives like a champ. If you'r looking to rent a flagship McLaren in New York but prefer something with a little more character the 650s is a great option. It's a hard top convertible so the top can be raised or lowered in less than 20 seconds from inside the car. If you want to rent a car that uses the latest technology in automotive engineering then a NY Mclaren rental is the way to go. It is the most exclusive exotic car rental we offer in NYC and provides lots of smiles and excitement. One of the most unique features of this McLaren are the dihedral doors that swing up. There similar but not the same as the doors you might see on a Lamborghini Aventador. We are the most trusted source for McLaren rentals in New York. Our network of partners provides you with access to the most exotic car rentals in the big apple. We only work with the top exotic car rental services in New York to make sure you have an enjoyable experience every time. We can have any one of the exotic cars on our website delivered to you in New York City, New Jersey, Greenwich, New Canaan, Long Island, Rumson, Brooklyn, Manhattan, Montauk or Southampton Beach. We can also deliver this car to LGA Airport or JFK Airport if you book in advance. Take your vacation to the next level by renting a Mclaren 650s Spider today.
The cost to rent a McLaren 650s in New York starts at around $2,200 per day but depending on the day it can be as high as $3,395. These cars are very rare these days and there are not many of them available for rent. There is also a deposit required from $5,000-$15,000 depending on your insurance coverage. There is also a delivery fee of $2 per mile plus tolls. We strive to provide you with the best priced McLaren rentals in New York. If you would like exact pricing for your desired rental dates feel free to give us a call.
We do not offer hourly McLaren rentals in New York. If you just need the car for a quick photoshoot or tv commercial you would have to rent the car for a minimum of 24 hours. You can return the car earlier if you prefer but will still be charged for the full day regardless.  These cars have become extremely rare and are hard to find for rent.