Rent a Mercedes AMG GT today for a day or for the whole weekend while you're in Miami Beach. The performance-oriented sports car that Mercedes Benz is the successor of the Mercedes SLS. AMG has been creating high-performance Mercedes-Benz's race cars for over 50 years.  Using some of the best engineers the AMG team continues to produce high-performance sports cars that out are both beautiful and also powerful. Drive one of the best Mercedes Rentals in Miami today. It's never been easier to rent a Mercedes.
 The new Mercedes GT coupe showcases the craftsmanship that AMG is putting into these beautiful cars. Let's be honest this is no Porsche 911 but the styling is similar and the elegant design is easy on the eyes. The bold front end with large Mercedes AMG grill make it stand out in a crowd. Using the latest engineering technology, the team at AMG team continues to create fun and exciting sports cars that are based on race car performance cues. It's a sleek sports car with an AMG race heritage that dates back to 1967. There are plenty of exotic car rentals in Miami to choose from but the AMG GT provides an incredible combination of asthetics and power. You can rent a Mercedes AMG GT in Miami for a day, weekend or on a weekly basis. Overall it's a nicely styled Mercedes that will make your time in Miami that much more special.
 The AMG GT is unlike any other sports car. It has more luxury and tech features than any other exotic car in Miami. Inside you find 2 seats that are very comfortable and give you plenty of leg room. The dash is a 12.3-inch fully digital display that looks very slick. On the steering wheel you have access to all of the different driving modes to allow you to quickly tune the car to your preference.The leather interior is built with quality hides and enhances the luxury experience. The premium 10-speaker Burmester sound system allows you to enjoy your music with life like sounds. Sit back and relax in the AMG GT with your best friend and you won't regret it.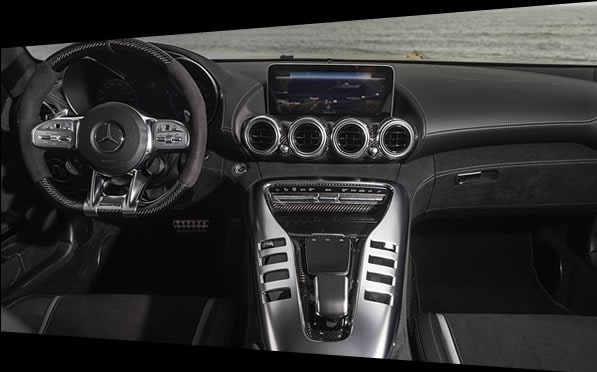 The GT is powered by an AMG 4.0L twin-turbo V8 engine that produces a total of 523 horse power and can hit 60 mph in just 3.7 seconds. Step on the gas and you'll hear the V8 engine come to life as you drive to your next destination in this beautiful Benzo. The body is created using a high-strength, lightweight core. The GT space age frame weighs just 514 lbs while maintaining longitudinal and torsional rigidity. 97% of its weight comes from the stamped aluminum which is combined with magnesium and especially advanced polymers. Although some exotic cars have louder and better performing engines the AMG GT keeps up while keeping it classy.The AMG GT is a spectacular sports car with everything you could ever ask. Drive the performance oriented Mercedes in Miami today and experience the performance for yourself.
ABOUT MIAMI AMG GT RENTALS
If your a big fan of Mercedes-Benz then the AMG GT is a great option for a beautiful exotic car rental. We can deliver any one of our Miami Mercedes rentals to your hotel on the beach as well as free delivery to Miami International Airport, Miami Beach, South Beach, Doral, Brickell, Downtown, Midtown, and Wynwood. Celebrate your next birthday, wedding or special event in style. If you want a stylish car for a fun night in Miami then the AMG GT is a great option.
 You can rent the Mercedes AMG GT today in Miami starting at just $549 per day. There is a $5,000 security deposit required at the time of rental and prices can change without notice. The best way to secure your favorite dream car is to reserve as soon as you can. Prices can vary on holidays and in some cities require two-day minimums. We can also offer any exotic car delivered to your hotel, business or venue upon request. We offer free delivery to most airports and hotels. Our goal is to always provide customers with the best Mercedes rentals at the best price.
The least amount of time you can rent the AMG GT is one full day. We do not offer half day rentals or hourly rentals in Miami. If you don't need the car for 24 hours you can always return the AMG GT earlier but will still be responsible for the cost of the day. We cannot provide hourly Mercedes rentals due to the high demand and turn around time to get the car cleaned and ready for the next rental.