Rent Lamborghini Huracan Spyder in Miami and cruise threw sunny South Beach with the top down. We also have the new Lamborghini Huracan EVO Spider available for rent as well. Take the Lamborghini Huracan to ocean drive where you'll see crowds of people from around the world and an abundance of exotic cars lined up on the side of the street. There are endless things to do in Miami like visiting some of the prestigious 5-star hotels and fine dining restaurants. Pull up to one of the hottest clubs in a shiny new Huracan convertible. Show up to your next event in style and watch as crowds gather around to take pictures of the car.
The Huracan's exterior design styling is based on the spiky hexagonal structure of the carbon atom, while the seamless roof profile is visible even when you drop the soft top. Don't be fooled by these subtle edges the Huracan's engine has around 50 horsepower more than the Gallardo Spyder and the Audi R8 Spyder. We have 3 color options available White, Red, Yellow and Grey. These are some of the coolest looking cars on the street. Even while parked the Lamborghini Huracan looks like it's traveling at high speed.
The Huracan has space for two to drive around Miami in style. Over your head, an ultra-lightweight soft top that opens in just 17 seconds. Inside, you will find a sporty yet elegant interior developed to ensure a comfortable and spacious feel. Each detail is designed to make your driving experience feel natural and stimulating. The cockpit is carefully sculpted with the finest materials using only the highest quality finishes. The back window and the top function separately to allow you to hear the roar of the engine yet keeping the cabin space quite and manageable.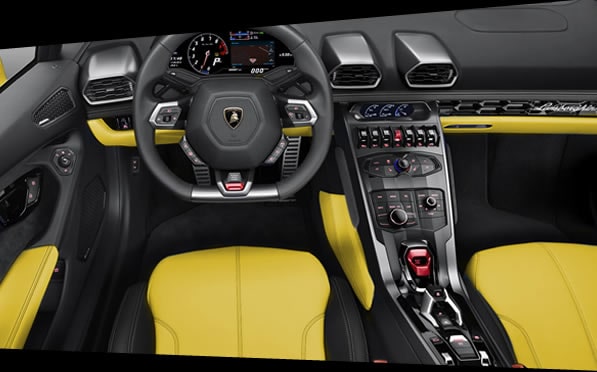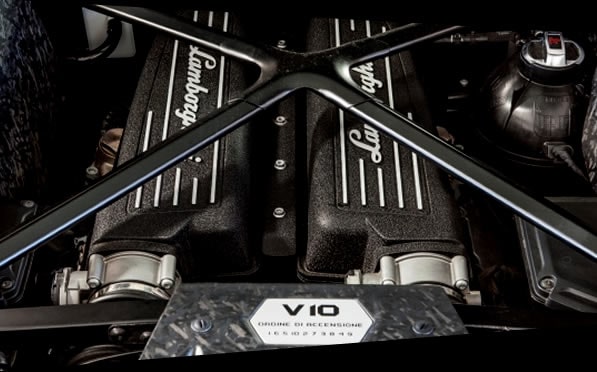 The convertible is just as fast as the coupe. Step on the gas and hear the roar of the 602-hp, 5.2-liter V-10 behind you. This exotic car goes 0-60 in about 3.3 seconds. The 610 CV naturally aspirated V10 engine of the Huracán Spyder makes this supercar almost as fast as Lamborghini's flagship model the Aventador. The core of the Huracan is assembled in Neckarsulm, Germany. The suspension is really effective in providing a softer feel than most hardcore sports cars. The large paddles shifters give you instant control of the gearbox, as it quickly shifts gears without hesitation. 
ABOUT MIAMI LAMBORGHINI HURACAN RENTALS
If you're looking for a supercar to rent in Miami we have the hottest exotic cars available. The Lamborghini Huracan although now an older model is still a great car to rent and provides a more affordable option to the Huracan EVO. Give us a call today and we would be happy to accommodate your Lamborghini rental in Miami. If the Huracan is not your style you can always try one of our other exotic car rentals in Miami. Whether your celebrating a wedding or want to drive around Miami to celebrate your next birthday we got you covered. Our Miami Lambo rental program gives you the option to drive a Lamborghini without any long term commitments.We can deliver a Huracan for free to your home or hotel in Miami Beach, South Beach, Doral, Brickell, Downtown, Midtown, and Wynwood. When can also have this car delivered to Miami international airport, your hotel, business or even drop the car off at the doorstep of your home. Why wait any longer, life is short, rent a Lamborghini Huracan Spyder today and experience the thrill of driving one of Lamborghini's most fun cars to rent in Miami.
So how much does it cost to rent a Lamborghini Huracan Spyder? Cost can vary during peak seasons when these cars have a higher demand but we can usually get you in the drivers seat of a Huracan starting from $995 per day. There is also a $2,500-$5,000 security deposit that is held on your card while you are using the car. This is much cheaper than going with the Huracan EVO but is also harder to find and always rented. Delivery to Miami International Airport is free so you won't have to pay any additional fees for transport.
We do not provide hourly Lamborghini rentals however you can return the car earlier if needed. If you do decide to return early you will still be charged the full day. We bill every 24 hours for Lamborghini rentals. These cars are in high demand and doing hourly rentals limits some of other customers from enjoying the car so it's a mandatory requirement.