Although the 488 spider was replaced with the F8 it continues to be a popular car rental option in Miami. If you're looking for an exotic car rental in Miami then the 488 Spider is a top option. You can rent a Ferrari 488 Spider in Miami for the day, weekend or even for the whole week. If you're going to rent a Ferrari then this is the one to drive down to Miami Beach. The convertible mid-rear engine sports car has a rigid hard top that can be folded down transforming this prancing horse into a convertible in seconds.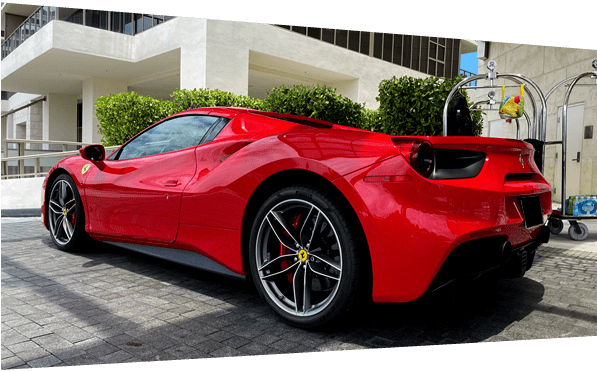 The 488 Spider looks identical to the 488 GTB except for the ability to remove the top. The hard top convertible can be lowered or raised with the push of a button. In just 14 seconds you can go topless in Miami even at speeds of up to 25 mph. This new Ferrari is key less and offers a full push-button system so you won't even need to take the key out of your pocket. Compared to the predecessor the 458 Spider the new 488 has a much bolder look. The rear fenders have new side vents that appear to be wider than before. The hood has also been redesigned to include two separate grooves. This gives the front a more appealing look. Due to Ferrari's advanced engineering that went into the 488 Spider it maintains nearly all the rigidity of the GTB coupe.
The 488 Spider has enough room for two. Just step inside with the key in your pocket and push the red start button and you're on your way. The interior is everything you would expect from a Ferrari with beautifully hand stitched Italian leather and an F1 inspired cockpit. With the top up the cabin is unusually quiet and does a great job of keeping road noise to a minimum. Press a button inside and magically the roof is gone and you can hear the roar of the engine loud and clear. The racecar styled steering wheel gives you full control of the start button, horn, turning signals and suspension tuning. Like with most Ferrari rentals in Miami this beast allows you to fine tune your driving experince with the manettino switch. Choose from a variety of modes including Sport, Wet, and Race.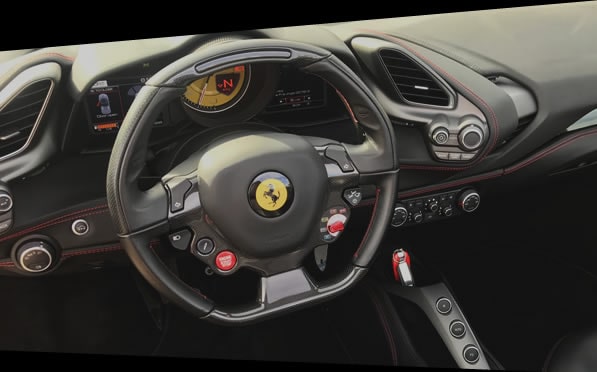 This Italian stallion isn't just for show. Equipped with the same 661-hp V-8 turbocharged engine found inside the 488 GTB this convertible can go from 0-60 in 2.9 seconds. In has an incredible throttle response that will put you in your seat. Step on the pedal and the 488 Spider engine roars to life with a combination of the turbo and motor creating a symphony for any car enthusiast. The powerful engine is fused to a 7-speed dual-clutch transmission that provides nearly instant shifting and allows you to control the power in manually mode with the paddle shifters on the steering wheel.Rent a Ferrari 488 Spider in Miami and feel the power of an exotic sports car like no other.
ABOUT MIAMI FERRARI 488 SPIDER RENTALS
There are plenty of things to do in the sunny city especially during Winter Music conference, labor day, Memorial day and Miami art week where millions of people come from all over the country to experience Art Basel. If you're visiting the sunny city of Miami why not take a spin around ocean drive in a shiny red Ferrari rental. The beautiful weather and palm trees create the perfect oasis to rent a Ferrari 488 Spider. South Beach is a popular destination for exotic car rentals all year round. Whether you're in town for a business meeting, attending an event, going to prom or just visiting for the day, Miami is a great place to rent a Ferrari. Enjoy the beautiful city of Miami behind the wheel of your dream car and rent Ferrari 488 today! Our Ferrari rental service is a fun and exciting way to spend your time in Miami. We can deliver any one of our exotic car rentals from Miami International Airport or Fort Lauderdale airport.
The 488 Spider starts at $1395 to rent per day and requires a security deposit of $5,000. For international clients, we may provide insurance but there is a higher security deposit that can be as high as $15,000. That being said this is the cheapest flasgship ferrari rental in Miami. We always try our best to find you the best Ferrari rentals at the best price. Delivery to Miami Airport or Miami Beach is free so you won't have to pay any additional transport fees. We also deliver to Doral, Coral Gables, Brickell, Downtown Miami, Midtown, and Wynwood and cost is usually around $2 per mile but can sometimes be waived depending on the amount of time you rent for.
In order to rent a Ferrari, you must be over 21 with a valid drivers license and provide full coverage insurance. We need to see a deceleration page containing your coverage limits in order to make sure your covered if the car is damaged.