Experience a luxury SUV like never before when you rent a Cadillac Escalade in Miami. A luxury SUV with unmatched refinement and enough space for up to 7 people. The Escalade ESV is the largest luxury SUV rental we offer in Miami. Our Miami escalade rental service has been used by thousands of happy customers and they always have good things to say about it. The extra space in the Escalade ESV makes it a great option to carry luggage or if you just want to ride in a comfortable car with plenty of head and leg room. Athletes love to rent the Cadillac Escalade everytime there in Miami because of its sophisticated appearance and interior room.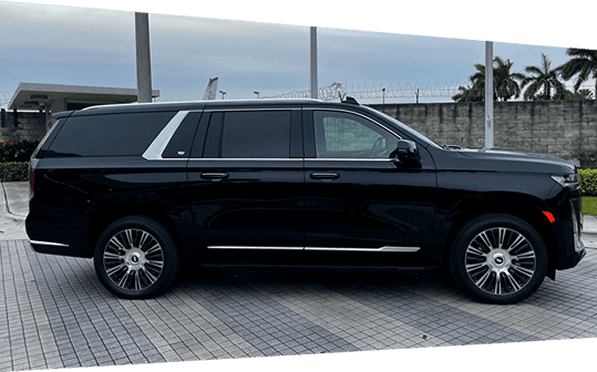 The Escalade ESV is the largest luxury SUV you can rent in Miami. There are two sizes for Escalade the standard model and the ESV extended version. In case you were wondering, ESV stands for Escalade Stretch Vehicle. This is the extended version of the Escalade that is 15.9 inches longer and has a stylish modern design. From the large iconic grill to the sleek horizontal headlights this is the most beautiful Escalade to date.  The Cadillac Escalade ESV has a larger than life presence. The 22 inch wheels give it a luxurious touch and refined look.
Inside your Miami Escalade rental, you will find an interior that is created with high-quality leather and beautiful finishes. The most technologically advanced Escalade yet includes 38 inches of OLED pixels for your you to enjoy. Innovative tech includes a navigation system, a premier sound system, and an infotainment system. Pair your phone with Bluetooth and take advantage of the hands-free talking. You can also listen to your favorite playlist using the Bluetooth connection. Another great reason to rent a Cadillac Escalade in Miami is that all of the Escalade's we provide come with automatic park assist and a surround view camera system. Were proud to offer this magnificent vehicle for rent in Miami. It also has 142 cubic feet of cargo space so you can fit your belongings.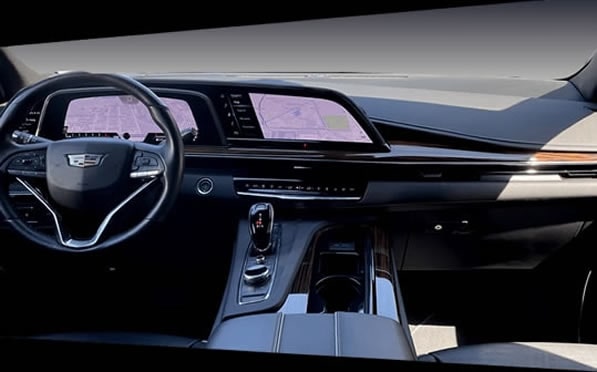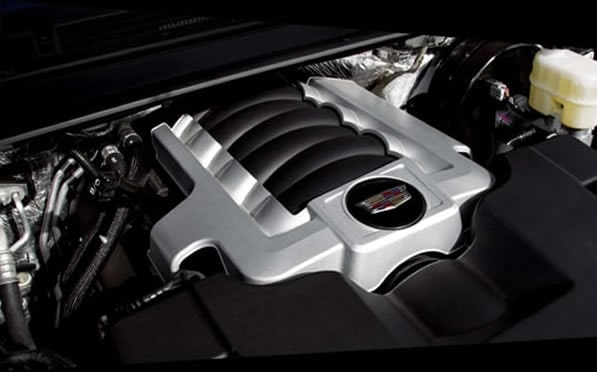 The power behind this iconic American luxury SUV is thanks to a 6.2L V-8 VVT DI V8 engine with Dynamic Fuel Management that produces an incredible 420hp. Combined magnetic ride control the suspension is smooth and handles the streets of Miami like a luxury SUV should. A  10-speed automatic transmission also helps the Escalade shift gears smoothly. The large V8 engine provides plenty of power when you need it and is a pleasure to drive. The Escalade uses intuitive driver-assistance systems to help you navigate around Miami with bold confidence. Combined with all of the advanced performance features this is the most powerful and technologically advanced Escalade yet.
ABOUT MIAMI CADILLAC ESCALADE ESV RENTALS
The Escalade ESV is an iconic American luxury SUV that is sure to impress wherever your journey in Miami takes you. You can rent a luxurious Escalade in Miami for any occasion. Travel in luxury the next time you have a wedding, birthdays, weddings, proms or corporate event and you need to make a grand entrance. Call in advance if you need delivery to Miami Beach, South Beach, Wynwood, Midtown, Downtown, West Palm Beach, Fort Lauderdale, and Orlando, Fl. We aim to provide you with the best Cadillac Escalade rentals in Miami.
The cost to rent a Cadillac Escalade in Miami starts at $495 per day. There is also a $2,500 security deposit required at the time of the rental. If you have full coverage insurance there is no additional insurance cost because you can transfer your insurance to the Escalade rental during the time your driving it. If you're looking for long-term luxury SUV rental, we provide special pricing for any rentals over 7 days. We also provide monthly leases at a lower cost. Get free delivery to Miami International Airport and the surrounding areas.
We do not provide hourly Escalade rentals but we do provide Chauffeur service with a 4 hour minimum. Your probably wondering whats the difference. With our chauffeur service a driver will pick you up in the Escalade and take you anywhere you would like to go in Miami. With our rental service you are the one driving the Escalade. If you want to rent an Escalade in Miami the minimum would be 24 hours or one full day. You can always return the car earlier but will still be charged the full amount.