The McLaren 650s is a stylish exotic car rental available in Los Angeles. It's exterior design is very stylish with functional aerodynamics that were inspired by a history of F1 race cars. It is also one of the most technologically advanced supercars in the world. It features a mid-engine convertible that is a fun to drive and is one of the best McLaren rentals in Beverly Hills.  Rent a McLaren 650s in LA and experience one of the coolest looking cars to drive down Rodeo Drive.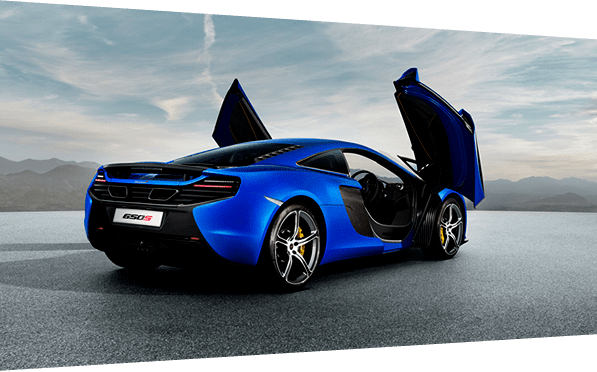 The McLaren 650s has many unique features starting with it's futuristic design that aid in it's aero dynamics cutting through the air with extreme precision. If your looking for an exotic car rental in Los Angeles that looks like a spaceship then the McLaren 650S Spider is probably going to be your best option. Compared to it's predecessor the MP4-12C it looks much more refined and unique. The new front bumper design provides increased air flow that provides additional down force when traveling at higher speeds. It still features about 75% of the parts from the previous model but the subtle changes make a huge difference. The LED headlights are shaped like the McLaren logo and help illuminate the street when traveling at night. Overall it is a beautiful exotic car to rent while in Los Angeles and will make your trip one to remember.
The interior of the McLaren 650s is just as exotic as the exterior. You will find it to be one of the coolest interiors of any of the exotic car rentals in Los Angeles. The design is inspired by the F1 supercars that McLaren is notoriously known for. You won't find another supercar rental in Los Angeles that provides this level of modern and unique design. The ergonomics of the interior from the steering wheel to the buttons are phenomenal. In the center console there is a vertical touchscreen display where you can control all the media and navigation settings. The telematic touch screen display that is simple and to the point. You can pair your phone and access all of your music so you can jam out when your driving down Beverly Hills. There are also dials on the door handle with small digital screens.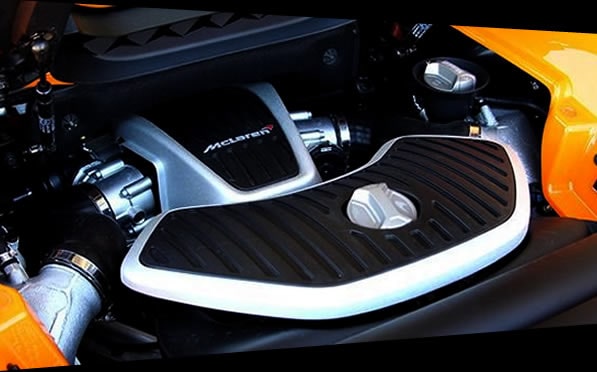 The McLaren 650s Spider features a 3.8-liter twin-turbo V-8 engine that is tuned to provide 650 horse power hence the model name. The powerful V8 can take it from 0-60 in just 2.9 seconds. The gearbox software was updated from the MP4-12C to provide quicker shifting when required. There are three different drive modes Normal, Sport and Track. Normal mode provides for a less aggressive car that can be driven every day as opposed to Track which is much more aggressive. We recommend Sports mode which is a good combination of the two settings. There are two selectors in the active dynamics setup the left is for suspension and handling and the right is for gearbox and power terrain settings.
About LA McLaren 650s Spider rentals
The unique design of the doors is one of the first thing customer notice when they rent this McLaren in LA. The McLaren 650s is a fun and easy car to drive. Unlike some of our other Beverly Hills exotic car rentals the 650s can be driven by almost anyone. Due to its advanced technological systems there is a very little learning curve when it comes to this exotic rental car. This supercar not only looks fast but has an incredible amount of performance as well. Take your vacation to the next level by renting a Mclaren 650s Spider today. The 650s is one of the most requested exotic car rentals in Los Angeles for good reason. Most customer who have never rented an exotic car before find it fun and
easy to drive. We can have your favorite McLaren rentals in LA delivered directly to your door in Beverly Hills, Malibu, Beverly Park, Redondo Beach, Manhattan Beach, Hidden Hills, Rolling Hills, Bel-Air Estates, Upper Laurel Canyon, Palos Verdes Estates, West Hollywood, Brentwood Park and even Los Angeles International Airport (LAX).
The average cost to rent a McLaren in LA is between $1200-$1800 per day depending on the year and condition of the car. There is also a security deposit of $5,000 associated with this exotic car rental. If your ready to experience renting a McLaren 650s in La today and want to know how much it cost we can provide you with pricing and availability if you give us a call. We also provide special discounted rates for long term McLaren rentals in Beverly Hills. Our goal is to provide you with the best McLaren rentals in LA at the lowest cost possible. Delivery is free to Beverly Hills and LAX Airport but if you need the car delivered to other parts of California there may be an additional charge for delivery.
The least amount of time you can rent a McLaren 650s spider in Los Angeles is 24 hours. If you just need the car for a short period you can still rent the car and return it early but will still be charged for the full day. These exotic cars are extremely rare and hard to find in LA which is why they require a one day minimum.