The Mercedes Sprinter is a spacious and luxurious SUV that is perfect for larger groups of people. You can hire a Sprinter with a driver this weekend and go for a fun trip around Los Angeles in luxury bus. There are multiple Sprinter chauffeur options available in Beverly Hills. You can choose between a traditional limo style bus with a long bench seat that wraps around, a Sprinter with row style seating, and the most luxurious option which is the executive style with limited seating but provides the most comfort. Depending on the amount of people you are traveling with and the availability for your desired reservation date we will find give you the best possible options.
The Mercedes sprinter is one of the best looking luxury buses on the road. The large Mercedes log up front is a reminder that your traveling in a limo bus with exceptional quality. Almost all the Los Angeles sprinter chauffeur options come in black but we can sometimes have other color options available like white or grey. Black is the most elegant and from a traditional sense the best and most luxurious. After all chauffeur services are also refereed to as black car services. These vans are large and provide you with a great way to take all your friends and family along for a ride. They are also great for corporate events due to the large size. Sprinter Vans have a simple design but are still more luxurious than other similar vehicles in their class.
Our Los Angeles Mercedes Sprinter chauffeur service in allows you to choose between different configurations. Depending on the amount of people in your party and we will find the most suitable option for you. One of the options is a traditional bus style where there is several rows of seating. The other is a limousine style configuration with a long row which wraps around. The last is the executive style seating option. This is the most limited in capacity but provides a first class travel experience similar to riding in a private jet. The traditional bus style and limo style setups allow you to bring the most people with you. These are also the most widely available options in Los Angeles. Any options you decide to go with will come with leather interior and comfortable seating.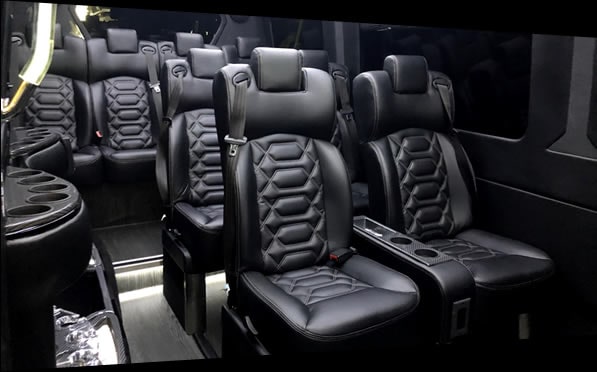 Each and every sprinter chauffeur option will provide a luxurious travel experience in LA. They are equipped with an air suspension setup that cushions any bumps on the road for a smooth ride to your destination. Mercedes-Benz is known for being a top tier automotive company and this is also applied to the luxury vans and buses they manufacture. It also has sound isolation in key parts of the bus to isolate the interior from road noises so you have a quiet ride to your venue. Travel in a stylish and comfortable SUV in Los Angeles and book a Mercedes Sprinter with a driver. We will guarantee professional service and you are sure to have a lovely experience in LA. Give us a call today and we can help set you up with the perfect Sprinter chauffeur for your special day.
MORE LUXURY CHAUFFEUR OPTIONS
About Los Angeles Mercedes Sprinter chauffeur service
The Mercedes Sprinter is the luxury chauffeur option that can accommodate the most amount of passengers. It is also the most adaptable and provides more space then even the largest luxury SUV options like the Escalade ESV or Rolls Royce Cullinan. The sprinter limo rental is perfect for weddings, bachelor parties, corporate events, or proms. The bus style Sprinter chauffeur is great for longer trips and as for business conferences. The executive style sprinter chauffeurs are a great all around option if you want to travel first class when you land at LAX.  We can pick you up wherever you need the sprinter and take you anywhere you would like to go. We can even arrange for you to be chauffeured from Los Angeles to any city nearby.
The hourly rate to hire a Mercedes Benz sprinter with a driver in LA starts from $149. This is not including any service fees, tolls, taxes, or gas surcharges. If you ready to hire a Mercedes Sprinter chauffeur give us a call and we can provide you with an exact quote for the amount of hours you need the SUV. Our goal is to provide you with the best Mercedes Sprinter rentals in Los Angeles at the best price possible.
There is a 4 hour minimum for all of our luxury chauffeur options in Los Angeles. This applies to all of the Mercedes Sprinter chauffeurs as well. During holidays and special events where there is a higher demand their can be a minimum of 5-8 hours.