The Mercedes AMG G63 is a premium version of the popular G wagon. It is a popular luxury SUV to hire with a driver in Los Angeles. The G63 is simple and rugged and has an incredible amount of interior space. You can rent a G63 with a chauffeur for your next special event and you can sit back and relax while we take you wherever you would like to go. Our luxury limo services in LA give you easy access to some of the most exclusive cars in the world including the iconic Mercedes G63 G Wagon.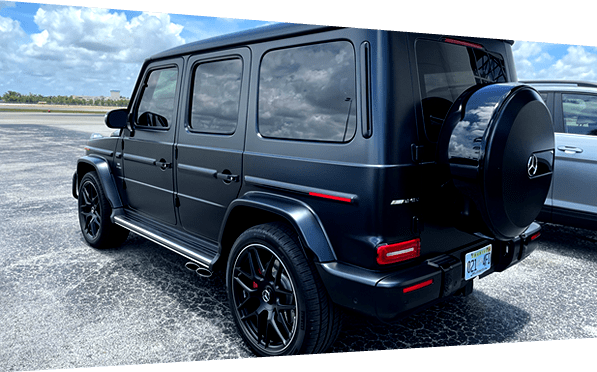 On the outside the G63 is hard to distinguish from the regular G models. It usually comes in exclusive colors like Matte black or other unique colors to the AMG brand. It also has the AMG logo on the rear and special wheels that only come on these premium models. The G63 is the most popular luxury chauffeur option when it comes to Mercedes SUV's. Both celebrities and athletes love to hire the G63 for it's simple yet iconic design. The rugged design has become a staple to luxury cars and it continues to be one of the most sought after vehicles around. Get driven to your next event in Los Angeles in a luxury chauffeur like no other. The timeless design and powerful look make this a great limo option for Beverly Hills.
Inside of the Mercedes G63 is where the magic happens. It has enough seating for 3 in the rear and one additional seat up front. When you hire a Mercedes G63 with a driver in Los Angeles you are stepping inside a luxurious Mercedes that has incredible interior comfort. The luxurious Nappa leather seats are incredibly comfortable and provide you with a luxury feel. It has lots of head room and interior space for you to stretch and relax as a luxury chauffeur takes you around LA in style. It's the perfect luxury SUV to hire with a driver for long trips around LA or even just for a nice ride to dinner with the family. Call us today and experience what it feels like to ride inside of a Mercedes G Wagon with a chauffeur.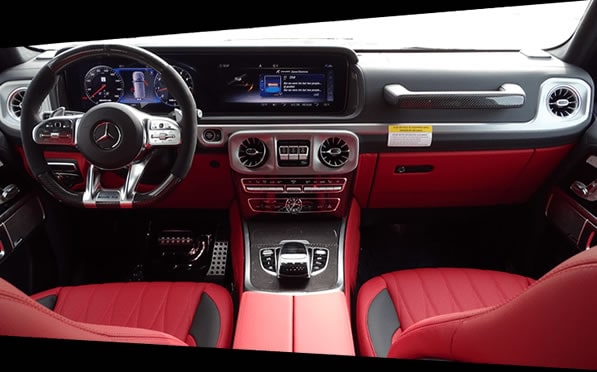 The Mercedes G63 has exceptional ride quality. The large body sits on a Mercedes air suspension system that isolates bumps on the road so you will barely feel them. The driver will put the vehicle in comfort mode in order to provide you with the smoothest ride on your chauffeur around Los Angeles. Getting driven around Beverly Hills in the AMG G Wagon will be smooth and quiet and will allow you to enjoy your time with your friends and family. Don't just arrive to your next event, arrive in a stylish Mercedes SUV. After riding in the back seat of the G63 you wont ever want to use a regular limo service again in Los Angeles. We have yet to have a customer that did not enjoy the luxury experience of riding in the iconic G63
MORE LUXURY CHAUFFEUR OPTIONS
About LA Mercedes G63 G Wagon chauffeur service
Los Angeles is a great place to hire a Mercedes G Wagon with a driver. The timeless design and luxury interior make the G63 a great option for a luxury chauffeur in LA. Due to the way the SUV was designed it has more interior room than most limos and provides additional head clearance for taller passengers. We can have a G63 waiting for you outside of your home or hotel in Los Angeles ready to take you on a comfortable ride. Whether your looking for a luxury chauffeur to celebrate a new job, birthday, anniversary, wedding, or a prom we would be honored to be a part of this experience. Our goal is to provide you with an unparalleled travel experience to compliment your special day. We guarantee you will have a great time when riding in a Mercedes G63 G wagon in Beverly Hills.
The price per hour to hire a Mercedes G Wagon in Los Angeles with a driver starts from $399 an hour. This is not including gratuity, service fees, taxes, tolls, or any fuel surcharges. If you would like an exact quote give us a call and we can provide you with a quote for the amount of hours you would like to be chauffeured. If you need the car for several days or need the car for an extended period we have special discounted rates. We are always happy to answer any questions or concerns you might have regarding pricing and availability. We strive to provide you with the best Mercedes Chauffeur service in Los Angeles at the lowest price possible.
The lowest amount of time you can rent a G63 with a chauffeur in Los Angeles is 4 hours. This applies to all of the luxury chauffeurs we offer in Beverly Hills. During some holidays or special events there can be a higher minimum.