Rent your favorite American icon the Corvette Stingray convertible. Experience the thrill and excitement of a Corvette Stingray Rental in Los Angeles this weekend. You can hire a Corvette in LA for a day, weekend, week or even on a weekly basis. The new high-performance Corvette C8 Stingray is one of the most affordable exotic car rentals we offer in Beverly Hills. The stingray is a great choice for a fun convertible that you can cruise Hollywood in.
The new Corvette Stingray convertible is undoubtedly one of the best looking Corvette rentals in Los Angeles. The C8 is completely redesigned giving it a similar appearance to exotic car rentals from brands like Ferrari and Lamborghini. The updated exterior styling gives it a sleeker style and more of a European flair but still remaining true to its iconic Corvette heritage. By switching over from a front mounted engine to a  mid-engine design it allowed the engineers at Chevy to place the drivers seat further forward providing a more immersive driving experience. Overall this is one of the most beautiful Corvette designs to date and will make your weekend vacation in Los Angeles unforgettable. Experience the best Corvette rentals in LA today.
When you step inside your Corvette rental you would immediately notice that the cockpit is driver-focused. All the controls are angled toward the driver giving you total control of the driving experience. Inside you will find a host of technology including a navigation system, Bluetooth connectivity for pairing your phone, front-view cameras, a rear-view camera and heated and ventilated seats with memory. It is also equipped with GM's Magnetic Ride Control dampers that give the Stingray a smooth ride without compromising performance. The premium leather bucket seats are comfortable and fit like a glove. The Stingray was first introduced in 1957 and continues to be one of the most popular sports cars to rent in LA. Take a drive around Beverly Hills inside the cockpit of the latest C8 Corvette.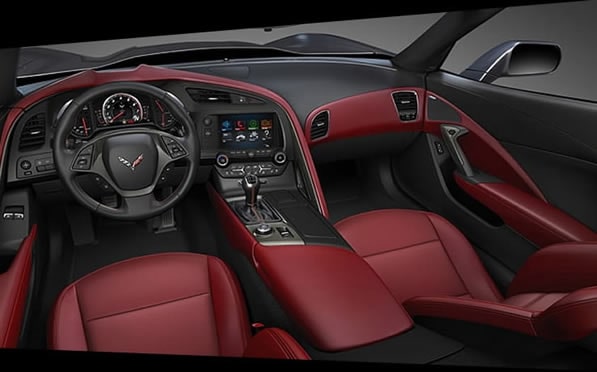 The Corvette Stingray is powered by a twin turbo 6.2L V8 engine that produces 495 Horsepower. The new mid-engine design was made from scratch taking it to levels of performance never seen before. It can take you to 60 mph in just 2.9 seconds. That's just as fast as some other way more expensive exotic car rentals in LA. For a high-performance sports car, fuel consumption is not as bad as you would expect from a V8 engine. The Stingray has an EPA rating of 16 city and 28 highway for a combined mpg rating of 22. Combined with an 8-speed automatic transmission the Corvettes performance is on par with some of the best sports cars in the industry. Over the years the Corvette has been know to be a high performance American icon and the new C8 is all that and more.
About LA Corvette C8 Convertible rentals
Ever since it was released in1953, the iconic Corvette Stingray has remained an American muscle car that is loved by car enthusiast around the world. A Corvette rental in Los Angeles is a great option if your celebrating a Prom, Weddings, Birthday, Anniversary or any special occasion you are celebrating. The Corvette is a great option to due it's beautiful style and affordable price. Imagine yourself driving down Rodeo Drive or Beverly Hills with the top down in a shiny new C8 Convertible. This car is a pleasure to drive and combines performance and looks like never before. We can have your favorite convertible Corvette delivered to your hotel, home, or venue in Beverly Hills, Malibu, Beverly Park, Redondo Beach, Manhattan Beach, Hidden Hills, Rolling Hills, Bel-Air Estates, Upper Laurel Canyon, Palos Verdes Estates, West Hollywood, Brentwood Park and even Los Angeles International Airport (LAX).
The average cost to rent a Corvette in LA is between $495 and $795 per day. There is also a security deposit of $5,000 that is required on the day of your rental. This includes 100 miles with your rental per day. If you exceed the 100 miles included per day then you will be charged $3 per mile. For long-term Corvette Stingray rentals, we offer special discounted rates. It has all of the performance you would expect from an American icon with a price tag that doesn't break the bank. If you would like exact pricing and availability for youre required dates feel free to call us. Our goal is to provide you with the best corvette rentals in Los Angeles at the best price.
The lowest amount of time you can rent a C8 convertible in LA is 24 hours. There are no exceptions due to the high demand of Corvette rentals in Los Angeles. If you just need to rent a Corvette for a couple hours we can accommodate your request but you will still be responsible for paying the full day rate. If you have any more questions regarding our rental policies or what is required to rent a Corvette in LA give us a call and we would be happy to answer any questions or concerns you might have.