The Cadillac Escalade ESV is an American SUV that exudes luxury like never before. You can rent a Cadillac Escalade in Los Angeles for your next adventure in Beverly Hills. The Escalade ESV is the most spacious American luxury SUV you can hire in Los Angeles with enough space for 7 people to ride in the lap of luxury. Our Miami Escalade ESV rental service is one of the most popular luxury car rentals in Beverly Hills. The ESV also has plenty of space for you to fit all you luggage. Experience the ultimate American luxury SUV in Los Angeles the next time your in town.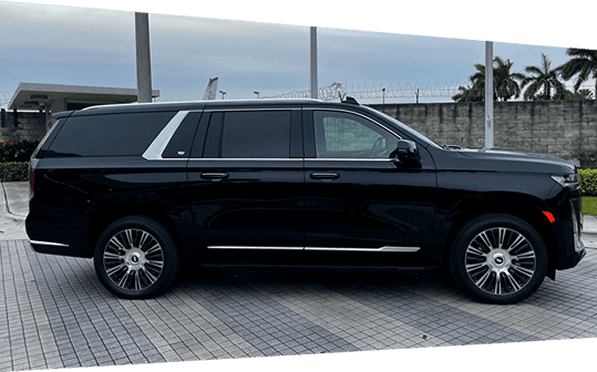 The new Escalade ESV has a bold new modern design. The headlights were updated with a horizontal design and the front bumper and grill also look sleeker than before. ESV stands for Escalade Stretch Vehicle. The ESV is the extended model with more space than ever before. It has been extended by 15.9 inches longer than the standard model. Overall the Cadillac Escalade ESV measures 227 inches long and is 81.1 inches wide. It sports a new set of 22 inch wheels that add to the refined look. The rear lights were also redesigned with a new look. Overall this is one beautiful luxury SUV rentals for Los Angeles. When we arrive at your door with the new Escalade ESV you will surly be impressed. 
Step inside the Escalade ESV and you will find an interior that is suited for royalty. It features high-quality leather seats and luxurious finishes throughout the vehicle. It also has the most tech of any of the version ever produced. The instrument cluster and infotainment screen provide 38 inches of high quality OLED displays. You can configure the instrument cluster to display your navigation screen so you can get around Los Angeles like a local. Some of the other tech you'll find inside your Los Angeles Escalade ESV rental is a premium sound system, Bluetooth, CarPlay, Android Auto, and hands-free calling. Connect your phone and take all of your favorite songs with you on your adventure down the Pacific Coast highway. The Escalade ESV also has features like automatic park assist and a surround view camera system to make it easier to park.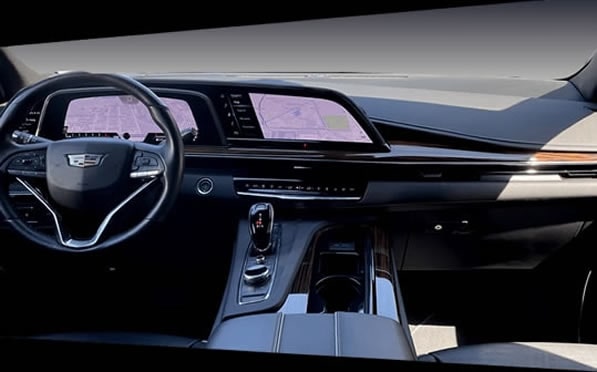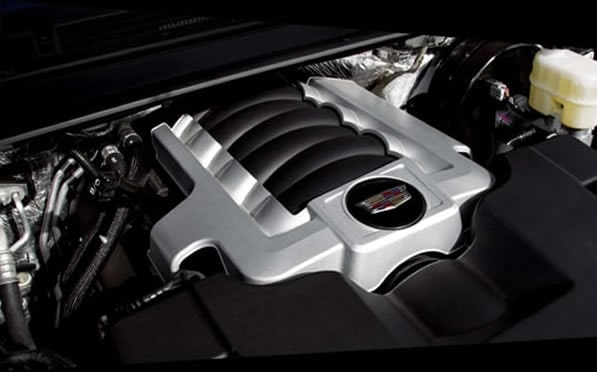 The heart of this iconic American luxury SUV is a 6.2L V-8 VVT DI V8 motor with a Dynamic Fuel Management system for incredible performance. The powerful V comes with 420hp and can reach 60 mph from a stand still in 5.9 seconds. The large 6.2L engine has plenty of power to get you around any obstacles. The engine is paired with a 10-speed automatic transmission providing smooth and quick shifts through all the gears. The technologically advanced magnetic ride control suspension makes it incredibly smooth and will make your driving experience feel like your in a hover craft. It also features an intuitive driver-assistance system for additional comfort. The new ESV is the most powerful and most luxurious Escalade to date.
About LA Cadillac Escalade ESV rentals
The Escalade ESV is the perfect luxury SUV to rent in Los Angeles. It features plenty of room for you and 6 guest to ride in luxury around Beverly Hills. This new American luxury SUV has a legendary design that will take your trip to LA to the next level. Arrive at your next special even in a stylish Escalade ESV.  You can hire an Escalade in Los Angeles for birthdays, weddings, corporate events, proms, or any other occasion you would like to make extra special. We can even have your favorite Escalade delivered right to your door in Redondo Beach, Manhattan Beach, Palos Verdes Estates, West Hollywood, Beverly Hills, Upper Laurel Canyon, Malibu, Beverly Park, Hidden Hills, Rolling Hills, Bel-Air Estates, Brentwood Park and even Los Angeles International Airport (LAX).
The daily rate to rent a Cadillac Escalade in Los Angeles starts from $595 per day. You will also be required to leave a $2,500 security deposit on the day of your rental. There is no additional insurance cost for insurance but you will need to provide full coverage and it must be approved prior to your rental. If you need to rent an Escalade for an extended period of time, we provide discounted prices for any luxury SUV rentals over 7 days. Our goal is to provide you with the best price for the best Escalade ESV rentals in LA. If you ready to rent an Escalade ESV give us a call and we can give your exact pricing for your desired rental dates.
We do provide Chauffeur service with a 4 hour minimum but if you would like to get behind the wheel there would be a 24 hour minimum. You can't rent an Escalade for just one hour. If you choose to use our Escalade chauffeur services we will have a driver pick you up at your location and take you around Beverly Hills in the lap of luxury. If you just need the to rent a luxury SUV for an hour or town you can but will still be required to pay the fee for the full day.