The BMW 750i is a beautiful luxury sedan and it's also the flagship model. It is one of the most luxurious and spacious BMW rentals in Los Angeles. You now have the option to rent a BMW 750i in Los Angeles and why BMW's are called the ultimate driving machines. It's bold design and incredible performance make in an awesome choice if your interested in renting a luxury sedan in Los Angeles this weekend. Drive the ultimate BMW SUV today and see for yourself why it's such a popular luxury car rental option.
The BMW 750i has all the style you could ever ask for out of a BMW sedan. The iconic large grill and modern design make it a great luxury car rental option in LA. The 750i received a subtle upgrade in the front fascia that adds additional touches of refinement. The 750i is one of the largest sedans and makes a bold appearance wherever you arrive. The front is equipped with thin Adaptive Full LED headlights to light up the streets of Los Angeles for those night time adventures. In the back there is also a new thin light strip with a modern touch. The contemporary exterior features long and elegant body lines for a smooth look. You will surly love the experience of driving around in LA inside one of the best sedans you can rent.
Step inside the BMW 750i and you'll be pleasantly surprised by the feel and attention to detail. The seats are extremely comfortable and make you feel like a star when driving around Los Angeles. The 7 series interior is technologically advanced with a driver oriented cockpit. The ride is smooth and silent even when traveling at higher speeds. The cabin feels relaxing and fun. The 7 Series has BMW's latest version of iDrive 7.0 included so you can navigate the infotainment system with relative ease. In the center there is an interactive touch display so you can play with the cars settings and select your preferred option. You can also use the rotary controller in the center console to control the features of the infotainment system. Another benefit of renting a BMW 750i in Los Angeles is the many USB ports around the cabin.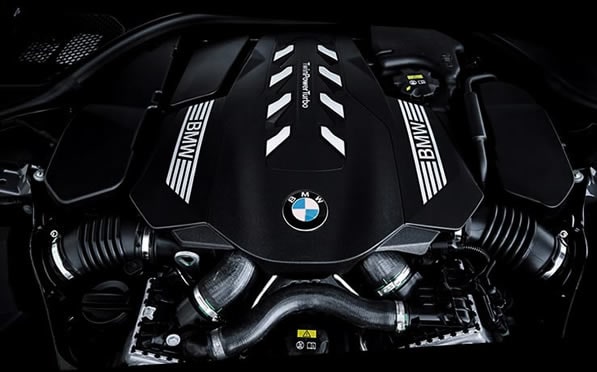 The BMW 750i is not all looks. It features a twin-turbo intercooled V-8 under the hood and can go from 0-60 in just 4 seconds. This is not a high performance race car but for such a massive sedan those numbers are pretty impressive. The incredible performance and smooth ride make it a great BMW rental option in Los Angeles.  It also has plenty of safety features like Active Blind Spot Detection, Frontal Collision Warning, Lane Departure Warning, Active Driving Assistant, which includes Daytime Pedestrian Protection, and semi-autonomous self-steering highway cruise control.
About LA BMW 750i rentals
The BMW 750i is a BMW sedan like no other with incredible amount of room inside and all the luxurious amenities you could ever ask for. If you interested in renting  a luxury sedan in Los Angeles for a couple of days the 750i is a great choice. It's a beautiful luxury sedan to rent for an anniversary, wedding, birthday, or corporate event. It features a great combination of style and performance and will surly make your travel experience while in LA unforgettable. We can deliver the BMW 7 Series to you anywhere in Los Angeles including Malibu, Bel-Air Estates, Beverly Park, Beverly Hills, Redondo Beach, Manhattan Beach, Upper Laurel Canyon, Hidden Hills, Rolling Hills, Palos Verdes Estates, West Hollywood, Brentwood Park and even Los Angeles International Airport (LAX).
The price per day to drive a BMW 750i starts from $495-$895. Depending on which model is available the price can be slightly higher or lower. You are also required to leave a security deposit of $1,500 on the day of your rental. Once the car is returned you will receive a full refund of your deposit unless there is damage to the car. If you would like a quote or have any additional questions regarding pricing give us a call and we would be happy to help to assist you. Our goal is to provide the best BMW rentals in Los Angeles at the best price possible.
The lowest time frame you can rent a BMW 750i in Los Angeles is 24 hours or one full day. If you just need to rent the car for a couple of hours you can but will still be charged the full day. In order to provide the best quality service these cars must be washed and ready after every rental. If you were to rent the 7-series for a an hour or two it would take the car out of inventory for for a longer rental we might have waiting.