If your visiting Las Vegas and want to rent a premium electric SUV the Tesla Model X is as good as it gets. This is the best electric luxury SUV you can rent in Vegas and has some cool features that you wont find in any other luxury SUV. One of the most unique features of the Model X are the gull wing rear doors that open upward like if you were getting into a spaceship. Experience a Tesla for a day, weekend, or on a weekly basis when traveling to Vegas. Another cool feature is the large touch screen display in the center that makes navigating and controlling all the cars features extremely easy. The Model X has plenty of interior room and a stylish appearance that will provide you with an unforgettable Vegas car rental experience.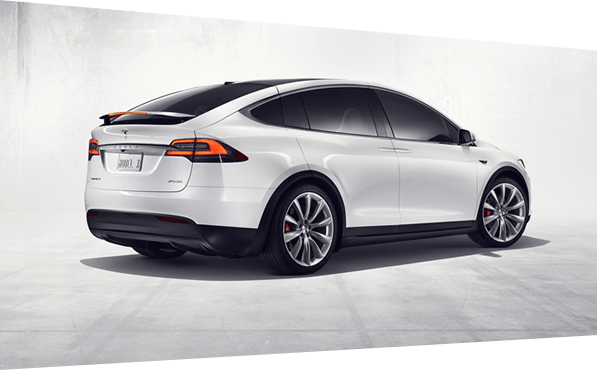 The exterior design of the Tesla Model X is modern and sleek with a rounded shape similar to what you might find on a Porsche Cayenne Coupe, Porsche Macan or a Mercedes GLS. The contemporary design is not only for looks, it helps with aerodynamics giving you the best performance. At this moment there are no other electric SUV's in the market that can compare to the Model X in performance and long range capabilities. The Model X is a cool looking car with gull wing rear doors that open upward in a unique way. The doors can also be opened using the remote for a grand entrance for who ever is lucky enough to seat in the back. Rent a Tesla SUV in Las Vegas this weekend and you will be surprised by how cool and innovative these luxury cars are.
Inside the Model X you will find a spacious, comfortable and luxurious interior. The Model X has enough room for up to 6 people to ride in style. The seats are very comfortable and the glass roof provides unparalleled viability so you can enjoy all of the lights on the Vegas strip. One of the things that Tesla's are known for is there massive touch screen displays in the center. The large high quality screen allows you to control all of the cars features and can even close and open any of the doors. The high ceiling and ample leg room make it a great car to rent if your taller and would like to have a comfortable driving experience. It also has plenty of cargo space because the front does not have a traditional motor so you can pack extra stuff for your ride down to the grand canyon.
There are several Tesla rentals available in Vegas. The Model X has a variety of models and some have performance that rival super cars. For instance the new Model X plaid edition has a 0-60 time of just 2.5 seconds. That is almost as fast as a Bugatti with much more room and a much lower price tag. Not all models are available in Vegas but if we don't have the specific model you are looking for we can also have one transported from LA for an additional fee.Although it's minimalist exterior design may fool you the Model X is a high performance machine. Electric cars have instant power when you step on the gas for a fun and exhilarating driving experience. It also comes with regenerative braking which can be disabled if you prefer a more traditional braking system. The regenerative brakes helps you to get more distance and will extend the time you have to recharge the car.
About Vegas Tesla Model X rentals
There are plenty of luxury SUV and exotic SUV rental options in Las Vegas. The Tesla Model X is great option because it gives you incredible performance but also a good amount of interior space and a luxury interior. The simple design makes it easy to drive and allows you to quickly get familiar with all of the cars features. The gull wing doors are of course one of the coolest features of this car but it is also very quiet and comfortable. It also has plenty of room for luggage or any other items you might be bringing on your trip to Vegas. We can arrange for a Tesla Model X to be delivered to any hotel on the Vegas strip or even have a Tesla Model X waiting for you outside of Harry Reid International Airport in Las Vegas.
The cost to rent a Tesla Model X in Las Vegas ranges from $495-$995 per day depending on the model you choose to rent.  There is also a security deposit required prior to having the car delivered. If we have one in Las Vegas when you need it then there is no extra cost for delivery. If there are  no models available we can also have one delivered to you from LA at an additional cost. The price for a one way transport from LA to Vegas is around $1,000. Our goal is to provide you with the best Tesla rentals in Las Vegas at the lowest price possible.
The lowest amount of time you can rent a Tesla Model X in Vegas is 24 hours. If the car needs to be transported from LA there may even be a 2 or 3 day minimum. Due to the limited availability in Vegas these electric vehicles are in very high demand and you must call in advance especially if we need to get the car transported.