Explore Las Vegas behind the wheel of your favorite Ferrari rentals. You can rent a Ferrari 458 Spider in Vegas and drive this beautiful convertible Ferrari this weekend. The 458 Spider is still an iconic Ferrari, being the first ever hardtop convertible to be released. It was also the last naturally aspirated vehicle produced by Ferrari. The newer models like the 488 spider are now all equipped with a smaller turbocharged engine.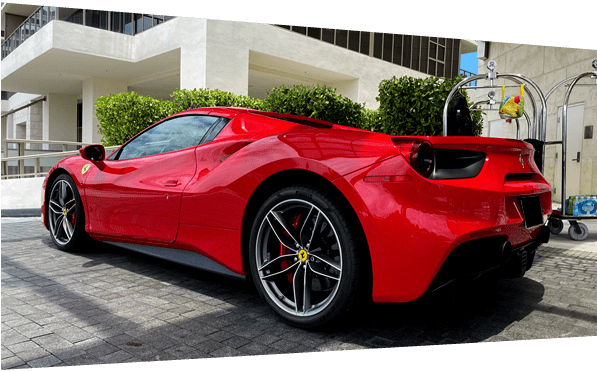 Your next vacation to Vegas wouldn't be complete without renting a 458 Spider for the weekend. The 458 Spider is still a beautiful car to look at and is the inspiration for the newer models like the Ferrari 488 Spider and F8 Spider. This classic Ferrari features an iconic Ferrari design that one awards and continues to be a sought after rental in Vegas.It was the first Ferrari to feature a ultra lightweight hard top convertible design. Renting a Ferrari is one of the most exciting ways to spend your trip to Vegas. The 458 although it is several years older already continues to be one of the coolest exotic cars you can rent in Vegas.
When you rent a Ferrari 458 Spider you are getting behind the wheel of a Ferrari like no other.  It is a 2 seat convertible that has a decent amount of room inside. The Ferrari 458 Spider rental comes with a beautifully appointed leather interior that is stitched to perfection. The racing style steering wheel puts almost all the controls in arms reach. On the wheel, you will find the start button, drive mode selector, suspension tuning button as well as the standard buttons such as turning signal, horn and windshield wiper buttons. The interior is driver focused and was inspired by their Formula 1 race cars. The 458 Spider has more interior space then the Lamborghini Huracan and is one of Ferrari's flagship models. Your going to love the experience of driving a Ferrari in Vegas.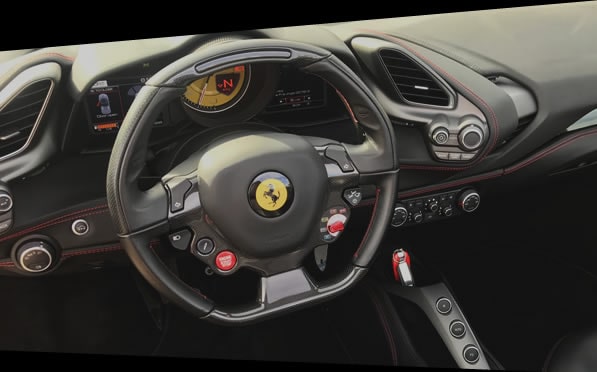 Equipped with a mid-engine naturally aspirated 4.5-liter, 562hp V8, it is a beautiful sports car to drive down the Las Vegas strip. This is not the pony at the fair, this prancing pony comes packed with a powerful V8 engine that is ready to ride like the wind. The 458 Spider does 0-60 in just 3.3 seconds and can reach speeds of up to 202mph. When you step on the gas the engine starts to roar. The V8 engine combined with the 7-speed dual-clutch transmission allows seamless shifting between gears and also allows you to control the shifts using the paddle shifters on the steering wheel. The 458 also features the signature manettino switch which allows you to switch between driving modes. The most popular mode is SPORT which provides an optimal balance between performance and handling for easy driving around Vegas.
About Vegas Ferrari 458 Spider rentals