The Cadillac Escalade is a full sized luxury SUV that you can rent in Vegas. The new Escalade was fully redesigned to provide a sleeker and bolder design.The Escalade was first introduced in 1999 and continues to be one of the most popular luxury SUV's you can rent in Vegas. It has come along way since then and the new Escalade is the best one yet. The fifth generation model showcase the best in American design and manufacturing. The Escalade is an iconic American SUV that will provide you with a luxurious way to get around Vegas. Drive the best ever Cadillac Escalade in Vegas this weekend and see for yourself all it has to offer.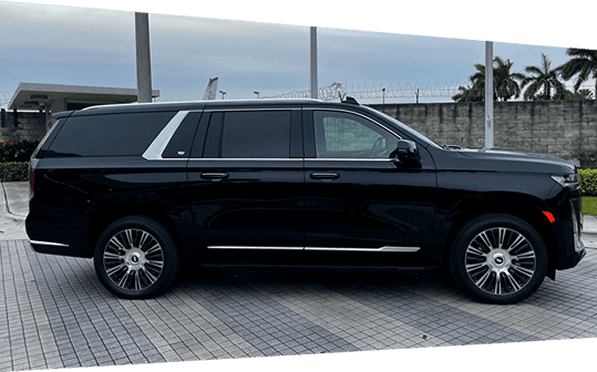 The next-generation Escalade features a huge upgrade in styling over the existing models.The exterior design has been heavily upgraded with new slimmer LED headlights, new wheel options, and a sleek new rear tail light system to name a few. The Escalade is an ultra luxurious SUV that is stylish and features lot's of convenience features. When you unlock the car the rear lights flow up a couple times before lighting up the entire bar. At night you will notice the Cadillac logo projected under the rear on the car which indicates where to swipe your foot to unlock the rear hatch effortlessly. The newly designed Escalade is a welcome addition to the luxury car rental options you will have available when visiting Las Vegas. Take an adventure to the Grand Canyon with your family and friends in this magnificent SUV.
When you climb inside the new Escalade the first thing you;ll notice is the massive curved screens in the dash. There are three screens total which provide 38 inches of pixel perfect info at your fingertips. The screens perfectly integrated into the dash for a sleep modern look that your going to love. If you use the touch screen display on the left you can activate AR mode which activates the front camera and gives you turn by turn directions with an overlay on top of the screen. You can also activate map mode so you have a full screen map on the digital cluster. Instead of having a shifter on the steering column like Cadillac's have traditionally had the new Escalade has a shifter similar to what you would find in a car. Another cool feature is the rear view mirror when switched to night mode actives the rear camera so you can see behind you even if you have luggage covering your rear window.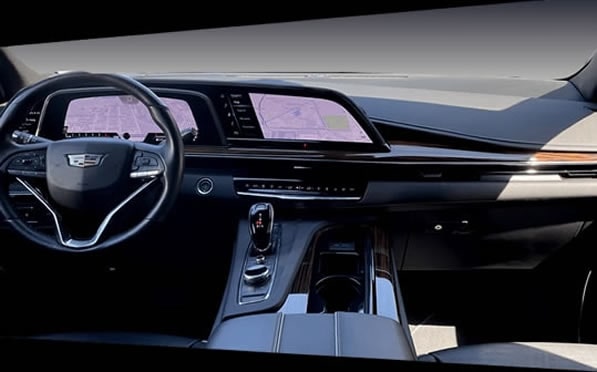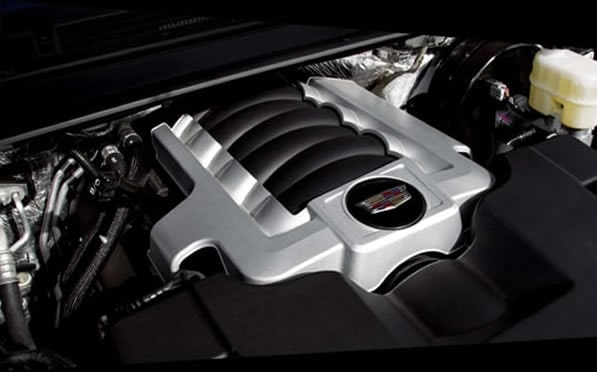 Under the hood of the new Cadillac Escalade is a 6.2 Litre V8 engine. The powerful V8 puts out an impressive 420 horsepower. This might not be a fast SUV but after all it is not meant to go fast. This luxury SUV is made to cruise and due to the powerful engine it provides a good amount of power for such a full sized SUV. The engine uses a push rod 16-valve system and is made from aluminum with direct fuel injection. The Escalade's ride and handling are impressive for such a large luxury vehicle. The engine is paired with a 10-speed automatic transmission that can be configured in rear wheel drive or all wheel drive mode. The Cadillac Escalade can go from 0-60 in 5.9 seconds. The independent rear suspension also helps the Escalade overcome any obstacles it faces on your adventure in Miami.
About Vegas Cadillac Escalade rentals
The Escalade is a premium SUV and a great luxury car rental option for Las Vegas. The interior is classy and has features like 38 inches of crystal clear OLED displays and a 36 speaker sound system so you can listen to your favorite songs as if you were in a concert. The seats are covered in leather and they are comfortable. It even has a mode called conversation mode which allows you to communicate with rear passengers using a small mic in the front and amplifies your voice through the rear speakers.
The interior is well built and made from quality materials. The rear has 2 large digital screens so you can keep your kids entertained while you stroll through Vegas. You can even play videos of your product if your hosting a corporate event. Overall the Escalade is an exceptional luxury SUV rental for Las Vegas and will most likely exceed your expectations of what an American luxury icon should feel like. We can have the Escalade delivered right to your hotel on the Vegas strip free of cost and also have a new Escalade waiting for you at Harry Reid International Airport when you arrive.
The cost to rent the latest Cadillac Escalade in Las Vegas can range from  $495 a day to $695 a day depending on what model is available. There is a $1,000 security deposit required prior to taking possession of the vehicle. There is no cost for insurance as long as you live in the US and have the proper full coverage insurance policy to cover the vehicle. If you would like an exact quote for the days you will be traveling to Vegas give us a call. We aim to provide you with the best Cadillac rentals in Vegas at the lowest price possible.
The lowest amount of time you can hire an Escalade in Vegas is 24 hours. Unlike some luxury car rentals available in Vegas that you can rent for just a couple hours there is a one day minimum with the Escalade. We can also provide you with a chauffeur option and a private driver will take you wherever you like to go.