The Cadillac Escalade ESV is an icon of American luxury. Over the years the Escalade has become a popular luxury car rental option. It's elegant design and bold new look make it a great car to drive around Vegas and even take trips to the grand canyon. It's spacious interior make it an ideal choice if your traveling with friends and family. The ESV is the extended version and provides enough seating for up to 7 people. Explore Las Vegas in the drivers seat of a brand new Cadillac SUV.  Besides a sprinter it's one of the most spacious luxury SUV's for rent in Vegas. There's also plenty of space in the trunk for all of your luggage. When athletes come to Vegas they prefer the Escalade for it's higher roof and massive amount of interior space in the cabin.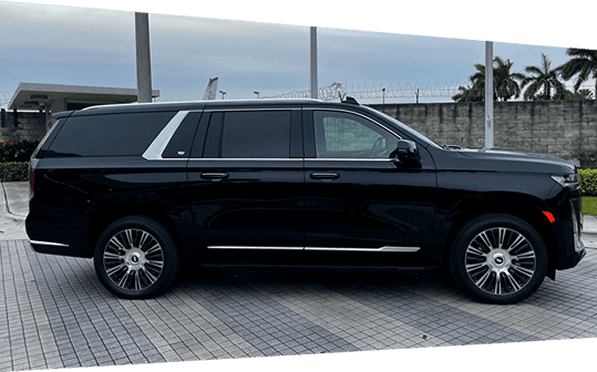 If you're not familiar with the Escalade it is the flagship luxury SUV in the Cadillac lineup. If you are interested in renting an SUV that is large and in charge the Escalade is a top contender. It's one of the longest SUV's with a refined elegant look. We are now offering you the chance to rent a Cadillac Escalade ESV in Las Vegas. The large iconic grill is bold and beautiful. It's probably the first thing you'll notice when you first see this bold SUV.  Over the years the Escalade has become one of the most popular luxury SUVs to rent in Vegas with good reason. The ESV badge in the rear indicated that this the Escalade Stretch Vehicle which is 15.9 inches longer than the standard model. That is more than a foot of extra room.
Experience your next trip to Vegas in the driver's seat of a beautiful luxury SUV. As you step inside the Escalade you'll notice the beautiful leather and high-quality trims are lavishly found everywhere. The spacious luxury interior makes it a great choice for a Vegas luxury car rental. The cabin is incredibly comfortable and has an incredible amount of space. Due to the fact that this is the ESV model there is more than a foot of extra room for all of your passengers to ride comfortably. Another great feature of the Escalade is the ability to fold down the seats to provide a tremendous amount of room for luggage and any large items you may be traveling with.  You can rent a Cadillac ESV for a day, weekend, weekly or on a monthly contract. Overall the Escalade is a lavish car rental in Vegas with plenty of comfortable seating for everyone. The Escalade comes with all the premium features you would expect from a Cadillac like Wireless Bluetooth connectivity with Carplay and Android Auto,  navigation, and a premium sound system.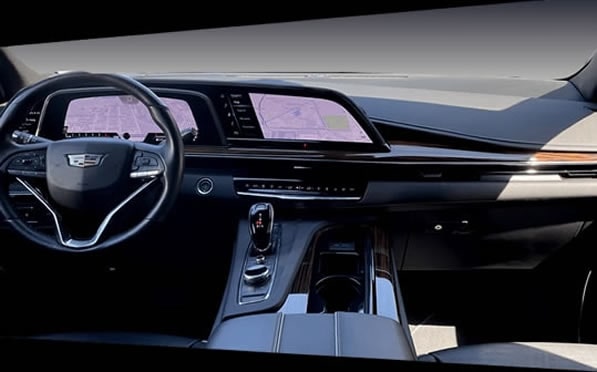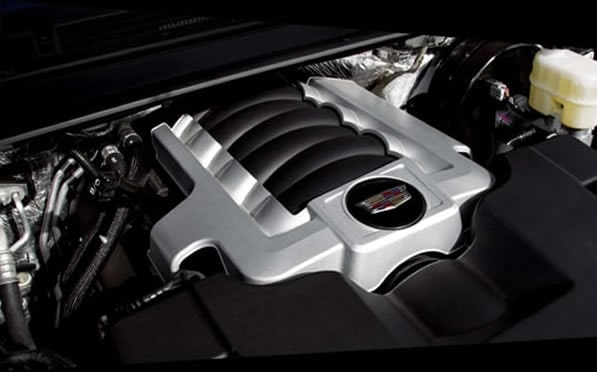 The engine that powers this iconic American luxury SUV is a 6.2L V8 engine that can produce an decent 420hp. The motor also comes with Cadillac's Dynamic Fuel Management system to get you the best mileage out of that massive motor. The large V8 is paired with a 10-speed automatic transmission also helps the Escalade shift gears smoothly. The large V8 engine allows you all the power you need when you need it. The Escalade will make your trip to Las Vegas unforgettable. The magnetic ride suspension makes the ride in the Escalade smooth and quiet. For such a large SUV the Cadillac Escalade is easy to drive with it's multiple camera system that will guide you into a parking spot with relative ease.
About Vegas Cadillac Escalade ESV rentals
The Escalade provides a great deal of interior space in a comfortable and luxurious cabin. The exterior styling is bold and the massive body makes heads turn everywhere you go. Executives love to rent the Escalade in Vegas due to it's elegant styling and curb appeal. It's a great luxury SUV rental option for companies to hire for their employees due to the 7 passenger capacity and modern design. We can arrive at Harry Reid International Airport in a shiny new Cadillac Escalade for you to enjoy. We can also arrange for the Escalade to be delivered at any of the luxury hotel on the Vegas strip free of cost.We have been helping customers find the best luxury SUV's in Vegas for quite some time and would love to help save you time with our effortless car rental process.
The price to ride in a Cadillac Escalade in Vegas for the day starts from $495 per day. You may also be required to leave a security deposit of $2,500 depending on what insurance coverage you provide and if you are a returning customer. There are no additional insurance cost required as long as you provide the proper full coverage insurance. If you're attending a weekly conference in Vegas and want to use our long-term luxury SUV rental in Vegas we can provide special pricing. We strive to find you the best Cadillac rentals in Vegas at the lowest cost possible. 
The Escalade rental service requires a minimum of 24 hours or more. Some exotic and luxury cars are available for rent in Vegas for just 2 hours but the Escalade is not on the list. If you have a special request give us a call and we go over your options. Regardless the Escalade is a great luxury SUV rental that you will want to rent for more than a day.