The Bentley Bentayga is a beautiful luxury SUV that is now available for rent in Vegas. It has the iconic Bentley styling with it's signature circle headlights. The newest Bentley Bentayga is a superb vehicle that has a large luxurious cabin with enough space for 5 people. The Bentayga also has incredible performance and is one of the fastest SUV's you can rent. The Bentley is a luxury performance SUV that provides a thrilling experience for your next trip to Vegas. It blends performance and luxury like no other SUV. Make your trip to Vegas an unforgettable one and rent a Bentley Bentayga in Las Vegas today.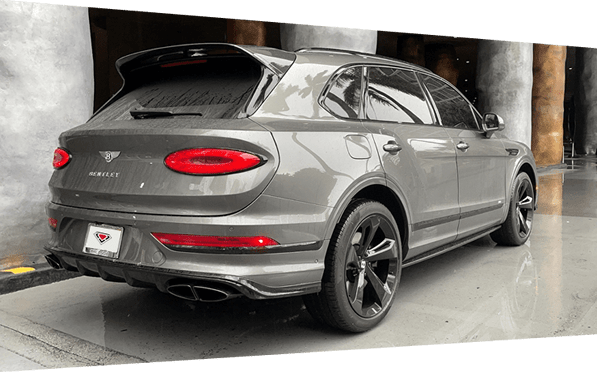 The design of the Bentley features Bentley's iconic styling. The first thing you'll notice when you first see is the iconic grill and signature Bentley headlights. The body is made from a lightweight aluminum and has the same sleek body lines you are accustomed to seeing with Bentley rentals. The LED headlamps illuminate the Vegas streets at night for optimum viability. The large body has a muscular feel with a design that has made it extremely popular. When you rent a Bentayga in Vegas you are driving one of the most luxurious SUV's in the world. Once you drive around in a Bentayga you wont want to rent another SUV again.
The Bentayga has an incredible luxury interior. It has enough room for 5 people. The interior is very spacious and has plenty of head room to leg room for taller passengers. The Bentayga has a a digital instrument cluster that maintains an elegant old world feel. It also has a large display in the center where you can use the navigation to get around Vegas. The Bentayga is also compatible with Apple Car play so you can plug in your phone and listen to your favorite songs. The leather seats are plush and comfortable for longer rides down the Canyons. The refined interior has premium materials that were crafted with superb attention to detail. It also comes with an exceptional sound system that brings out the clarity in your music like never before.
Under the hood of the Bentayga is an all new V8 engine that produces 542 horse power. It combines power, torque, and efficiency like no other Vegas SUV rental. The twin turbo V8 takes the massive SUV from 0-60 in just 4.4 seconds. The Bentayga is one of the highest performing SUV's in available for rent in Vegas. It also has a top speed of 180 mph. The car has an advanced fuel system that switches between direct-injection and port-injection for maximum performance and fuel efficiency. You will have a very fun time when you get behind the wheel of this incredible Bentley rentals.
About Vegas Bentley Bentayga rentals
The ultra-luxury SUV produced by Bentley is now available for rent. Try one of our Bentley Bentayga Rentals in Las Vegas for a day. If your visiting Las Vegas for a trade show or just for fun you can now rent a Bentayga while your there. Sophisticated styling features and the most technologically advanced V12 and V8 engines produced by Bentley. You and passengers will be amazed by the comfort and space inside. The Bentayga delivers the perfect mix of torque, power, and efficiency of any SUV in it's class. The engine comes equipped with dual turbochargers that have been fine tuned for maximum performance. We can even have a Bentley Bentayga delivered right to the door of your hotel including the Four Seasons Las Vegas, The Encore, Wynn, Venetian, The Bellagio, Aria, Mandarin Oriental, The Cosmopolitan or Caesars Palace. We can also have the car delivered for free to Harry Reid International Airport or any other private airport.
The daily rate for a Bentley Bentayga rental in Vegas ranges from $995-$1495. There is also a security deposit required ranging anywhere between $5,000 and $10,000. For long-term Bentley rentals we can provide discounted rates. We aim to provide you with the best Bentley rentals in Vegas at the lowest price possible. If there are no Bentayga's available in Vegas when you need one we can always have one transported from LA for a round trip fee of $2,000. If you are ready to rent the Bentayga in Vegas give us a call and we can provide you with exact prices for the days you would like to reserve the car.
If we have the Bentayga you would like to rent in Vegas then the minimum amount of time would be four hours. However if the car needs to be transported from LA there may be a 1 or even 2 days minimum. The Bentayga is a beautiful luxury SUV and once you start driving around Vegas you will probably want to extend your rental regardless. If you have any questions regarding any of the exotic car rentals we offer in Vegas feel free to give us a call. We are always happy to answer any questions or concerns you might have.