The Mercedes GLE 43 is a sleek and sporty Mercedes rental option in Houston. It is the AMG version of the GLE that increases performance and has some extra refinements for an even sleeker ride. The bold design and high performance engine make the Mercedes GLE 43 rental a great choice. It has a rounded shape and is more compact than some of the other Mercedes SUV options making it easier to drive. Discover the GLE 43 for yourself and rent a Mercedes GLE 43 in Houston today.
The Mercedes GLE 43 AMG is the top of the line when it comes to the GLE class SUV. It's refined design adds some subtle design changes to make it even nicer than the standard model. The sloping roof lines give it an aggressive stance that make it look like it's going fast even while it's parked. It features unique design elements like the signature 21 inch AMG wheels that adds to the luxury SUV's allure. It also has a different grill that has a similar look to the AMG GT sports car. See this beautiful luxury SUV for yourself when you rent the Mercedes GLE 43 in Houston this weekend.
Inside of the GLE 43 Coupe there is a good amount of interior space. It has enough room in the luxury interior for up to 5 people to ride around comfortably. It also has some additional AMG touches around the interior that make it stand out from the standard model. The front bucket seats are covered in leather and hug your body like a glove. The GLE 43 also has a variety of tech inside like the dual digital displays. One is for the digital instrument cluster and additional display shows you navigation instructions and is where you control the premium audio system.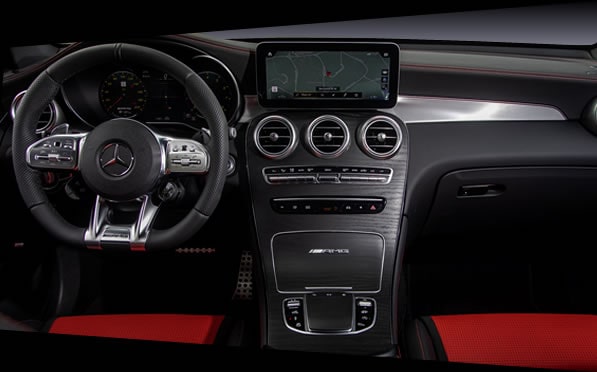 The GLE 43 is all about power. Although the exterior may look very similar to the standard model the engine is a different story. The GLE 43 comes equipped with a bi-turbo 4 litre 503-hp twin-turbo V-8 engine under the hood. As soon as you start up the car you can hear the powerful engine roar to life. The incredible sounds coming out of the AMG exhaust system let you know that your not in any ordinary Mercedes SUV rental. The motor is then paired with a nine-speed automatic transmission taking this luxury SUV from 0-60 in just 3.8 seconds.
ABOUT HOUSTON GLE 43 RENTALS
The GLE takes everything you love about the standard model and adds more power and elegance to take give you that extra appeal that everyone loves. It's compact design and agile performance make it one of the top Mercedes rentals in Houston. The GLE 43 is a great option if your looking for a fun car to explore Houston with your friends and family. It's also very classy so you can rent a Mercedes GLE 43 for a  wedding, anniversary, business meeting, birthday celebration, or just to spoil yourself while your on vacation. We can even have a Mercedes GLE 43 delivered right to your driveway in Houston. Whether it's to your home or hotel the car will be waiting outside with just a phone call.
The cost to rent a Mercedes AMG GLE in Houston for the day can range anywhere from $599-$895. Depending on the model and year of the car that is available the prices may vary. You are also required to leave a security deposit from $1,000 and $5,000 depending on what insurance coverage you provide. Our goal is to provide you with the best Mercedes rentals in Houston at an affordable price. If your ready to experience this Mercedes GLE 43 rental give us a call and we can provide you with exact pricing and availability for the days you need it.
We require a minimum of 24 hours for any Mercedes rentals in Houston. If you only need to rent a car for an hour or two you will need to pay for the full day. We also offer luxury chauffeur services in Houston in the AMG GLE 43 that only require a 4 hour minimum.This allows us to handle the driving for you and you can just sit back and enjoy the ride.